SPL clubs want to seize the power to decide on Rangers' newco membership
Eleven teams agree they want to take the power to accept a newco into the SPL away from the board.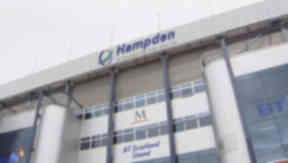 Scottish Premier League members want to move the power to deal with newco applications away from the board and into the hands of the clubs.
In a meeting at Hampden, which administration-hit Rangers did not send a representative to, the 11 SPL teams unanimously agreed that they should change the rules on how a newco team could be admitted.
Currently it is up to the six man SPL board, consisting of Neil Doncaster, chief executive, chairman Ralph Topping, Eric Riley of Celtic, Motherwell's Derek Weir, Dundee United's Stephen Thompson and Steven Brown of St Johnstone, to decide on whether a newco club can come straight into the SPL.
Now they want that decision to be made by representatives of all the clubs.
The meeting was due to vote on proposals to set out penalties for SPL clubs involved in administration and "insolvency transfer events" - otherwise known as switching to a 'newco'.
However, Rangers administrators Duff and Phelps were not present and asked for an adjournment until May 30, which was accepted.
In a statement, an SPL spokesman said: "The 11 member clubs present in person at today's general meeting unanimously called for the power to deal with any newco application to be moved from the board to the clubs. This requires 21 clear days' notice. The clubs will therefore meet again on 30 May to consider a resolution designed to achieve this.
"In the event that an application for transfer of share to a newco is received before May 30, then it can be dealt with by the SPL board. The SPL board have indicated that they would, in those circumstances, call together the clubs before any such decision was made.
"For the avoidance of doubt, no decision on any transfer of a share to a newco has yet been made, nor has any such application been received."
The May 30 meeting will now decide on this matter, the sanctions to take against clubs in financial problems, and voting rights.
The vote on how to penalise teams who go into administration or who form a newco was previously adjourned for seven days. American businessman Bill Miller subsequently assumed preferred bidder status from Rangers' administrators Duff and Phelps but firm powers to deal with a newco application are still not finalised.
Speaking after the meeting, SPL chief executive Neil Doncaster denied the issue had turned into a shambles.
He said: "I don't think so, I think that is very unfair. We know that passions are running high, we know this is a very sensitive time for Scottish football and we know that a lot of things are at stake.
"So it is very important that people take time to make the right decisions and are balanced in their approach.
"We had a request just before the meeting started from the administrators of Rangers to adjourn the meeting.
"The administrators I think felt it was appropriate that any new owner of Rangers should be involved in discussions around the sorts of issues that were considered today and the clubs agreed with that."
Dunfermline chairman John Yorkston said that the representatives did not have sufficient information to go to a vote.
Yorkston said: "It took a long time to not decide anything. We all want to make quick decisions and come out with what the story is but we don't have enough information."