Juan Manuel Ortiz expects to return to Rangers at end of loan spell
The Spanish winger says he will be back at Ibrox after his spell with Almeria ends.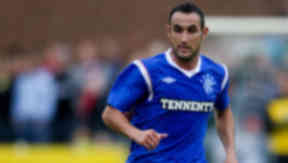 Juan Manuel Ortiz expects to be back at Rangers next season once his loan spell with Almeria comes to an end.
The Spanish winger, recruited from the Spanish club last summer, proved to be a flop in Glasgow and, after 13 appearances, moved back to his old side in the January transfer window.
With the future of the in-administration club itself still shrouded in doubt, Ortiz admits he is unclear what will happen next but will return to pre-season training unless told otherwise.
"I'm calm about the Rangers situation because my only focus is on helping Almeria get back into the Primera Division," he told the Daily Record.
"I've left it to my agent and he doesn't foresee any problems with my deal. At the end of the season he will meet the club in Glasgow and evaluate my situation.
"I'm open to any sort of solution. Will I leave Rangers after my loan? I haven't spoken to anyone about it but I'm signed until 2014."
Ortiz also expressed his surprise at the situation currently affecting his parent club, saying he had no inkling there were financial issues behind the scenes.
"During my stay at Ibrox I've never suffered any problems in receiving my salary," he claimed. "I never envisaged these events happening.
"Rangers have a great football history and I don't understand how it was possible to build up so much debt."
Ortiz has impressed since returning to Almeria, scoring four times in 13 appearances for the Segunda Division club as they vie for a spot in the promotion play-offs.