Marc Klok sold on Ross County move by former Motherwell man Rob Matthaei
The Dutch midfielder says family advance and being made to feel welcome sealed the switch.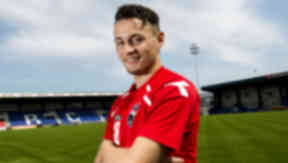 Marc Klok says the combination of family advice and being made to feel welcome sold him on a move to Ross County.
The 20-year-old Dutch midfielder, recruited from FC Utrecht's youth side, is one of four players from the Netherlands recruited by Derek Adams this summer.
Klok's uncle Rob Matthaei played with the County boss at Motherwell in the late 90s, before a spell with Dunfermline Athletic, and helped sell his nephew on a switch to the Scottish Premier League.
"When I heard that I could come to Scotland, I did some research," Klok told STV. "My uncle played in Scotland many years ago. So I asked him how he liked it and he was lovely about it.
"He said there were very nice people. So for me it was not a hard decision to make. I was on here on trial also and the people liked me. It was not a hard decision.
"You leave your own country for another country. I live alone, I'm not with my family or my girlfriend. So it's really important that people like you. Otherwise you are on your own."
Darren Maatsen, Melvin de Leeuw and Kevin Luckassen have also made the move from Holland to Dingwall and Klok says the club's Dutch contingent have helped each other settle.
"We have to learn to speak English all the time in the dressing room and on the field," he added.
"But when you have time for relaxation, it's good to speak Dutch to each other because you feel at home. You have somebody near you. It's good."