Tony Dingwall and Jamie Reckford agree Ross County contract extensions
Dingwall will however miss at least three weeks of action with a broken bone in his hand.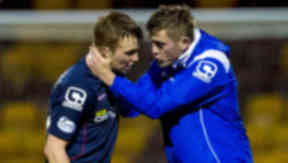 Ross County winger Tony Dingwall has agreed a new contract but faces at least three weeks out with a broken bone in his hand.
Dingwall and Jamie Reckord have both agreed extensions beyond January while manager Jim McIntyre will try to get Paul Quinn and Martin Woods tied up beyond next month too.
The 20-year-old, who recently scored a double against Motherwell, will sign until summer 2017 while 22-year-old former Wolves left-back Reckord has committed himself for a further 18 months following his recent arrival.
McIntyre said: "Jamie Reckord will sign an extension and Tony Dingwall will sign a new contract as well. We will have discussions with Martin and Paul and will definitely be looking to offer them a contract."
But McIntyre added: "Tony Dingwall has broken a bone in his knuckle area and is having an operation.
"He is going to have to be in a plaster for three weeks. Once that is off he will have it X-rayed and hopefully then he will be able to get straight back into training with a protective glove."