St Johnstone chairman says no to Rangers 'newco' without sanctions
Brown believes that other SPL chairmen share his view on a Rangers share transfer.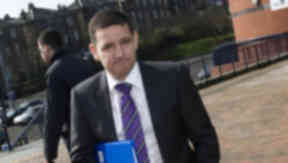 St Johnstone chairman Steve Brown has insisted that he will not vote for a "newco" Rangers to be readmitted to the Scottish Premier League without sanction.
The SPL chairmen will vote next week on changes to the league's rules which could impose set penalties for any club that exits administration by a newco route.
Existing rules allow the SPL membership to be transferred to a "newco" if approved by the league board but any sanction is discretionary.
Fans of other SPL clubs have made it known that they oppose any Rangers 'newco' being approved without punishment and Brown says he understands their concerns.
"I can relate to that," he told STV. "I've been a supporter, am still a supporter and I've been on supporters' buses, trains and on the terraces.
"If I've got a vote then I certainly will not let Rangers in without sanctions. That will not happen."
Brown stressed that with prospective Rangers owner Charles Green still keen to see the club exit administration through a CVA, any discussion of the Ibrox club transferring their SPL share was hypothetical. However, he said that he was not alone in believing that it was a strategy that would have to incur sanction.
"The feeling from the people I've spoken to from within the chairmen's ranks is that they won't let Rangers in with a 'get out free card'," he explained. "That won't happen.
"I think Rangers themselves and the majority of supporters accept that they're going to have to get some form of punishment. That's wholly accepted throughout the game. It has to happen."