Tommy Wright: St Johnstone were 'wronged' by Hibs penalty award
Liam Henderson was adjudged to have been fouled by Chris Millar in the League Cup semi-final.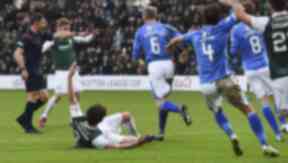 Tommy Wright believes his St Johnstone team were "wronged" by the decision to award Hibernian a penalty in the League Cup semi-final clash.
Liam Henderson was adjudged to have been fouled in the box by Chris Millar, allowing Jason Cummings to convert from the spot in the 2-1 win for the Championship club.
Wright admitted that Hibernian had been the better of the two sides, but was aggrieved with referee Steven McLean's decision.
"I've seen it back and it's disappointing," Wright said. "In any big game you need that bit of fortune.
"We weren't helped by injuries, (Brian) Easton and Millar going off, but there's always big decisions in big games and the big decision certainly went against us.
"The referee is actually looking round the player to see it. In a way I wouldn't blame the referee but certainly their player's actions probably made his mind up for him.
"What I've seen, there doesn't look to be any contact."
Steven MacLean was booked after being one of several Saints players to accuse the on-loan Celtic player.
"They reacted because they think they have been wronged, and I think they have been wronged," the Northern Irishman said.
"Look, they created more chances so they deserve to win, but you need big decisions to go your way. It's a tough job for referees and I don't think he has been helped."
Stubbs did not offer much of a defence for Henderson.
"Whether there is contact or not is difficult to tell from the replay," he said.
"Their player sticks his leg out and Liam goes over it. It's hard to see from the replay whether there is contact but Steven is in a brilliant position to give it and we're glad he's given it.
"Tommy and their players might be disappointed to concede the penalty. I would be if I was in their shoes, I'm not going to lie.
"But we got it and I thought we just shaded it over the 90 minutes."