St Johnstone midfield pair Chris Millar and Murray Davidson sidelined
Respective hamstring and knee injuries will rule the duo out for a number of weeks.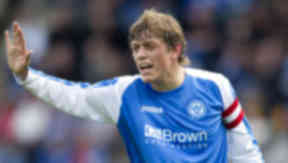 Chris Millar and Murray Davidson have both been ruled out for a number of weeks, St Johnstone have confirmed.
The midfield duo, who have respective hamstring and knee injuries, both went off during the Saints' 2-1 loss to Aberdeen at the weekend.
Millar will sit out the next six weeks, while Davidson will be out for an indefinite period as treatment is carried out.
"It's a blow, that's for sure," St Johnstone boss Steve Lomas told the club's official website. "Murray saw a specialist last week about his knee which has been bothering him for some time now.
"They don't want to operate and so a mix of rest and electric shock treatment to the affected area to help improve blood supply seems to be the way ahead but that's going to take time.
"As for Midge, rest and treatment is obviously on the cards but I think we are looking at a significant period of absence."
Despite the loss, Lomas feels he has enough depth within his squad to keep his midfield strong.
He said: "Jamie Adams came off the bench on Saturday and we had David Robertson and Kevin Moon not stripped so the absence of Chris and Murray provides opportunities to these players to come in and make an impression."