Murray Davidson indebted to loan spell with 'old school' Cowdenbeath
The St Johnstone midfielder enjoyed his spell with the Blue Brazil.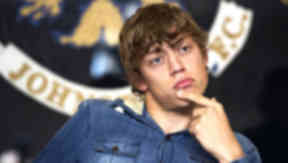 St Johnstone midfielder Murray Davidson says he owes a lot to his loan spell with Cowdenbeath.
The 24-year-old spent time with the Blue Brazil during the 2006/07 season and he says his spell with the Fife side helped him become the player he is today.
"It's old school," said Davidson, who made his Scotland debut in Luxembourg earlier this month.
"It was seven or eight games I played. It was good for me. It stands you in good stead going to places like that as a young boy.
"I think more young boys should be put out to lower division teams.
"It shows you it's not all about coming in and getting mollycoddled.
"You've got to go out there, work hard and see what it's like in the lower leagues.
"I enjoyed my time there, even though it was only in seven or eight games. It stands you in good stead."
St Johnstone head into Saturday's game at Central Park on the back of a 1-0 loss to Hibernian.
And Davidson is relishing the chance to put that result behind them, adding: "It's good in a way because you come from a Wednesday night game, such a low, and you can't dwell on it," he said.
"You're back in first thing in the morning for a big game against Cowdenbeath in the Scottish Cup.
Davidson added: "The last few years we've been trying to get a cup run and we're under no illusions it's going to be tough. It's a tough place to go."