Steve Lomas says Richard Brittain saga adds sub-plot for Ross County clash
The Ross County skipper signed a pre-contract with St Johnstone in January but has expressed a desire to walk away from the deal.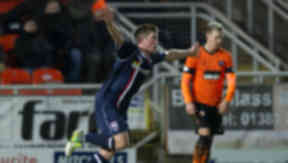 St Johnstone manager Steve Lomas insists the ongoing debate over the future of Richard Brittain is merely a sub-plot ahead of his side's clash with Ross County.
Brittain signed a pre-contract agreement with the McDiarmid Park club in January but has controversially expressed a desire to walk away from the deal for what he claims are family reasons.
Ahead of Sunday's tie between St Johnstone and Ross County Lomas said: "We will see where it takes us. But I rate Richie highly. That is just a sub-plot to the game. Once the game starts the players will be trying to win the game.
"Richard is a good player but Ross County have a lot of good players. I have a lot of time for the club and they have been a wonderful story and not just this season either."
Lomas insists his players are raring to get back into post-split SPL action after sitting out last week due to the Scottish Cup semi-finals.
Fourth-placed Saints are five points behind Inverness, who play at Celtic Park tomorrow, and one point ahead of County as the race for European places hots up.
The former Manchester City and West Ham midfielder said: "We worked hard last week in training and had a couple of bounce games.
"There has been a lot of stopping and starting since the start of the year. We just want to get playing again and get the last five games played.
"It is a huge game for us. I'm sure it is huge for Ross County as well."