St Mirren fans' group launch fresh takeover bid for Paisley club
A supporters group is understood to have submitted a £1m offer for a controlling stake.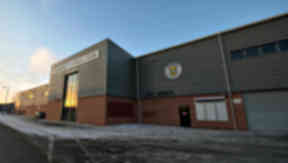 A St Mirren fans' group has made an offer to buy a controlling interest in the SPFL Championship club.
The St Mirren Independent Supporter's Association is working with former director Gordon Scott to purchase a majority shareholding from chairman Stewart Gilmour and a consortium of fellow directors.
The buyout plan is based on Foundation of Hearts' successful takeover of the Edinburgh club, made in conjunction with businesswoman Anne Budge.
SMISA and Scott hope to buy a majority stake, with the fans then purchasing Scott's stake within five to ten years. Scott would be appointed as chairman initially with fans represented on the club's board.
The consortium who currently run the club, fronted by Gilmour, put their 51% shareholding up for sale in 2009 but, despite interest from several parties, have been unable to conclude a deal.
A fan-backed proposal fronted by Ayshire haulage firm owner Richard Atkinson submitted a bid in 2012 but saw it fall through with questions raised about sustainability, while interest from English and Argentine groups failed to result in sale.
SMISA chairman George Adam - who is also MSP for Paisley - told Press Association Sport: "An offer has been made and we're now just waiting for the board to get back to us.
"Our plan is very similar to the model Hearts have employed to great success. Gordon already has a shareholding and plans to buy more, while we will also buy a stake and between us we will own a majority.
"Then over five to 10 years we will buy up Gordon's shares, and from that point is where I believe it will get exciting as the fans will be in charge. They will have a say in how the club is run.
"Fan ownership and community trusts are the future for Scottish Football."
Gilmour and his allies first put their 51 per cent stake in Saints up for sale in 2009 but since then have struggled to find a buyer.
Adam said that despite the club's relegation from the Premiership last season it remains a well-run business and that there was no better time to put it in the hands of supporters.
"We have learned from the mistakes made by 10,000 Hours and we've tried to make sure everything is kept tight between us and the board and we only went public when we had something to say," he said.
"When we go to our members, we want to make sure we have a robust case to make.
"This is an opportunity to own the club, if we miss out God knows what could happen to it if it goes to somebody else.
"It's no secret the board want to move on. They have put a lot into St Mirren and quite rightly believe their time is up. But who is going to chap on the door next?
"Financially the club is still very well run and we believe this is our chance to bring the club into community ownership.
"Time is now pressing. The club has a new manager in Alex Rae now in place but the January transfer window is coming to a close soon. We need to get this moving so the club can move forward."