Ronaldinho's failed move to Scotland
Brazil superstar Ronaldinho was almost an SPL star but red tape scuppered his move to St Mirren.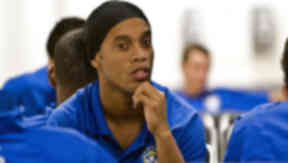 It seems the stuff of fantasy football now but at the time it was very, very close to becoming reality. The latest talent to come out of Brazil was tipped to follow in the footsteps of Pele and Zico but for a brief, bizarre moment it looked like the samba starlet was poised to line up alongside Barry Lavety in black and white.
In what must rank as one of the strangest transfer stories ever, the last-minute collapse of Ronaldinho's loan switch to St Mirren in 2001 poses one of the greatest "what if" questions in Scottish football history. Could the Brazilian genius have single-handedly reversed the -40 goal difference that saw Saints relegated from the SPL that season?
 
As then St Mirren manager Tom Hendrie tells it, it was only red tape that prevented him from unleashing the mercurial talents of Ronaldinho on Scottish defences. A fake passport scandal in his native Brazil, and sluggishness on the part of the Brazilian FA, saw the deal fall through at the last minute and hopes of a ray of sunshine in gloomy Paisley were scuppered.
Ronaldinho, then at Gremio, had already lined up a deal to take him to Paris St-Germain in the summer but was looking for a short-term switch to acclimatise himself to European football. How visits to Dens Park, Tannadice and Tynecastle would prepare the tricky forward for playing against Monaco and Marseille was never made clear but the player himself had been persuaded and was ready to swap the beaches of Brazil for the Beach End at Pittodrie.
"We spoke about Ronaldinho but there was a legal problem at the club he was at," Hendrie moaned at the time. "Because of the problem, the Brazilian FA would not release the player's international clearance in time for us to register him ahead of the deadline.
"He has been playing with Gremio but he was willing to come and play for us before going on to PSG. Now we're obviously running out of time to get someone in.'"
St Mirren took five years to bounce back from the disappointment and the ensuing relegation from the SPL, while the Brazilian magician went from strength to strength. The spell at Paris St Germain saw him land a move to Barcelona where he went on to win La Liga and the Champions League. He won the 2002 World Cup with his country and was named World and European Footballer of the Year before his partying lifestyle saw his value drop and he moved to AC Milan to try to recapture the magic.
While every St Mirren fan will still daydream about what magical patterns he may have woven on the Love Street turf there is every possibility that the Brazilian also has his "what if" moments.Currently exiled from Dunga's Brazil squad and looking like missing out on this year's World Cup, Ronaldinho may ponder where he would be now if he had moved to Scotland. With his international manager already having graced the highest stages as a player, maybe Dunga would have been impressed with trophies he had never lifted himself.
Without the help of Ronaldinho, Saints have won the Scottish First Division, the Challenge Cup, the Renfrewshire Cup on five occasions, and are now in this season's Co-Operative Cup final. All trophies Dunga has never lifted, nor Pele for that matter. If not for red tape and dodgy passports, Ronaldo Assis de Moreira could have been the first player to complete a Renfrewshire Cup and World Cup double. Who's sorry now?