Aleksandar Kolarov: Serbia are a better team than 'long-ball Scotland'
The Manchester City defender criticises the style of football played by Craig Levein's side.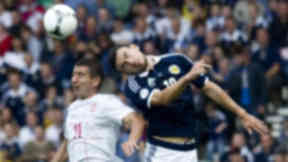 Serbia defender Aleksandar Kolarov believes his side are superior to Scotland after their draw at Hampden, accusing Craig Levein's men of being a 'long-ball' team.
The Manchester City full-back played in the 0-0 draw at Hampden and says he and his team-mates were prepared for the hosts' approach after playing Ireland in a friendly last month.
The 26-year-old said: "I think we are a better team than Scotland.
"They played at home but I think we are a better team than them. And we are going to try to win against Wales.
"I think all the squads from the island play in the same way, with the long ball.
"We had this game and the last friendly game against Ireland, so we are used to playing against a team like this."
Kolarov came close to scoring for the visitors but his shot went past the post.
He said Scotland's game plan came as no surprise, adding: "We know how they play, with long balls. They are good on the second balls and from set-pieces.
"We made some mistakes and they could have scored but nil-nil in the end was okay for both sides."
Serbia captain Branislav Ivanovic, who was accused of being disrespectful about Scotland's style earlier in the week, was more complimentary towards his opponents.
"I think Scotland can beat us and also we can beat Scotland so a draw is okay for both teams for a start," the Chelsea defender said.
"They had some opportunities from our mistakes. We had two or three opportunities and the draw was correct.
"We said before the game it was going to be a very tough game, and it was.
"Both teams had good chances to win the game but I thought it was a fair result and we can be happy with a draw in one of the hardest away games for us.
"Maybe we should have created more but we had a great chance at the end of the game when the player was one-on-one against the goalkeeper.
"Also the Scottish team had good chances to score and I think a draw is enough."