Don't panic: Craig Levein says it's too early to write off World Cup hopes
The Scotland boss remains positive despite two home draws in the opening World Cup qualifiers.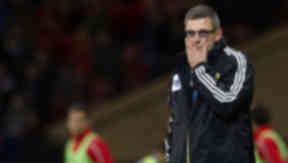 Craig Levein believes it is too early to judge Scotland's hopes of qualifying for the World Cup, despite taking two points from a possible six so far.
The national team's 0-0 draw with Serbia on Saturday was followed by a 1-1 draw with Macedonia, a team ranked 50 places below the Scots, on Tuesday evening.
Levein's side left the Hampden turf to a chorus of boos but, asked if he was confident that Scotland could bounce back to take command of the group and qualify for the finals in Brazil, he was unequivocal.
"Yes I am," he said. "I look at the situation just now. There are three teams on four points, we are two points behind and for me there is no need to get worried about the situation just now.
"If you look at the table it doesn't look damaging at all, does it?
"It isn't as bad as people might make out.
"I am very positive about where we are going.
"You look at Serbia on Saturday, did you think they were better than us? I didn't.
"And I didn't think there was much between the teams tonight at all."
Macedonia had taken an early lead through a Nikolce Noveski goal on 11 minutes but a close-range finish from Kenny Miller just before the break gave the home side hope. Neither side could find a winner in the second half and Macedonia coach Cedomir Janevski said afterwards that he was disappointed not to win the game.
Levein said that he was disappointed with aspects of the performance but was unconcerned by the group standings after two matches.
"I don't think we handled the counter-attack very well and that is more about personnel than anything else," he said.
"We will have to get victories from somewhere, I accept that and playing away from home and sitting in might suit us.
"We would much rather be sitting with four points but what's done is done. The important thing is picking up points in the next match.
"I don't know what it will need, I don't know how many points it will take to qualify, what I do know is there are 24 left.
"I also know we have players to come back who will make the team stronger, particularly in the midfield area."