Scotland boss left angry over disallowed goal after Wales defeat
Craig Levein feels the decision to rule out Steven Fletcher's header was crucial in the 2-1 loss.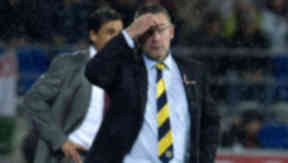 Scotland manager Craig Levein was left angry and frustrated after seeing Steven Fletcher's goal disallowed in the 2-1 defeat to Wales.
James Morrison's goal put the Scots ahead before Sunderland forward Fletcher headed in Charlie Adam's cross only to see the goal ruled out by the officials.
Gareth Bale went on to net a double as Chris Coleman gained his first win as Wales boss.
Referring to the disallowed goal, Levein said: "You can understand my frustration.
"Everybody who watches it can make up their own mind about whether it was a good or poor decision by the officials.
"I can only relay my feelings, and I am extremely angry about this happening to us again.
"We have been subject to a couple of really poor decisions and it has a huge effect on our chances of qualifying."
He added: "With 10 minutes to go I just could not see us losing the match.
"Getting the second goal was always going to be crucial, though, because a 1-0 lead can be fragile, and so it proved.
"That second goal was so important for us, and I believe the officials made a serious error with the chalked-off goal that Steven Fletcher scored. That is very hard to take."
The defeat has increased the pressure on Levein but the national boss says he doesn't feel under any extra pressure ahead of Tuesday's match with Belgium.
He added: "Any time you take to the field for an international match, the pressure is exactly the same.
"I don't want to talk about 'what if this happens' or 'what if that happens'.
"The important thing now is that I do the job to the best of my ability and get the players up for Tuesday."