Shaun Maloney devastated after conceding late penalty in Cardiff
The midfielder says Gareth Bale didn't dive to win the spot kick as Wales beat Scotland 2-1.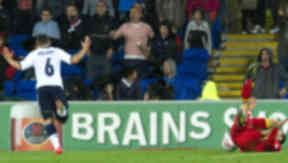 Scotland midfielder Shaun Maloney has apologised to his team-mates and insists Gareth Bale didn't dive for the penalty which helped Wales beat Scotland 2-1.
Referee Florian Meyer judged the Wigan player had fouled Bale in the box with nine minutes left to play and the Tottenham Hotspur man scored before adding the winner with minutes to go.
Visiting players were furious with the decision but Maloney says he thinks he touched the winger.
He told the Daily Record: "The penalty decision swung the game in their favour and I feel awful about that. I think there might have been a bit of contact, to be fair to Bale.
"It wasn't a challenge as such, he just ran across me and part of his legs touched mine. I don't think he dived. It was just a coming-together.
"I haven't seen it again but I have to be honest – my gut feeling was that he didn't dive. I'm pretty sure I didn't put a challenge in but I think there was some contact.
"It happened numerous times in the game. I tried to track back and help Danny Fox, as that was my job on the night. It's just unfortunate that this one time he got in front of me and when he ran across me he ended up winning the penalty.
"I can only apologise to my team-mates. It's just one of these things that can happen in a match. But it's devastating after the effort that everyone put in and it's something I'm going to regret for a very long time."