Allan McGregor: Poor decisions are costing Scotland points
The Scotland goalkeeper says that the latest refereeing mistake to hit Scotland is part of a trend.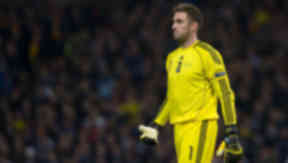 Scotland goalkeeper Allan McGregor has said that defeat against Wales was undeserved and that decisions have gone against Craig Levein's side.
A late double from Gareth Bale, the first from the penalty spot, saw Wales come from 1-0 down to beat Scotland on Friday night.
However, McGregor believes the decision to rule out a Steven Fletcher goal was incorrect and would have been decisive in the match.
The goalkeeper cited similar incidents in previous qualifiers and said that bad luck where officials were concerned made the team look worse than they are.
"I don't think we deserved that result, I really don't," he told the Scottish FA official website.
"I have said it already and I will say it again: some of the decisions we have had to contend with are really hard to take and it was the same again on Friday night.
"I am not taking anything away from Wales and I know it sounds like sour grapes but it is true and you only have to look at some of the incidents.
"If you look back to the penalty against the Czech Republic at Hampden; that cost us a place in the play-offs. It happened against Macedonia when their goalscorer [Nikolche Noveski] was offside and again on Friday night, when a perfectly good goal is chalked off.
"From where I was I saw the flag go up early so assumed it was offside. Then the referee gestured that that cross had gone over the byeline. We couldn't believe it when we saw the incident afterwards and saw that the ball was well in play and that Steven's header was absolutely fine.
"It makes it that much harder to accept because at 2-0 down the game is over - no doubt about it. We were playing well and creating chances and the second goal would have killed Wales off. Instead, they get a soft penalty and arguably they should have been down to 10 men in the last 10 minutes."
Scotland's World Cup qualification hopes hang by a thread after defeat and with an in-form Belgium side to play on Tuesday, McGregor said the players had to pick themselves up and remain positive.
"It is always important to bounce back when you don't get a good result and it is especially so now," he said.
"Obviously qualifying has become more difficult now but we can't give up and we need to look forward to the Belgium game with belief that we can take something from them.
"It's hard to pinpoint what is going wrong. As the manager said, there is just one ingredient away from things going well but luck is definitely not something we have had a lot of.
"The group was always going to be a difficult one and it has become even more difficult now but we have to take the positives, block out the negatives and do our best to get a result in Belgium."