Watch a live stream as Georgios Samaras' Greece face Romania in play-off
The Celtic forward's side are 3-1 up from the first leg of their World Cup decider.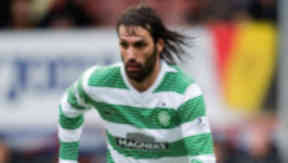 Georgios Samaras is in action for Greece as they look to book their place at the 2014 World Cup via a play-off with Romania.
Greece are 3-1 up from the first leg in Athens but face an opponent desperate to avenge their defeat.
"We are so sorry because we disappointed our fans [in Athens]," Romania goalkeeper Bogan Lobonţ told UEFA.com. "But every one of them can be sure that we will fight until the end for our chance, no matter how small that chance is."
Greek forward Dimitris Salpingidis says his squad aren't assuming their place in Brazil is already booked, despite their lead.
"We still have 90 minutes ahead and need to play even better in order to qualify," he told UEFA.com. "This Greece team has passion, soul and talent, and are meeting fans' expectations, but we should refrain from any celebrations now.
"Let's postpone them until after the game in Romania."
You can watch the match live here on STV via the video below. Kick-off is at 7pm.