Scotland confirmed in pot four for qualifying stage of Euro 2016
There are some interesting twists to the competition, with the draw taking place in February.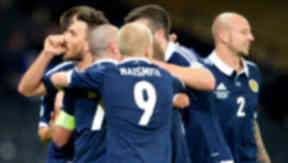 Scotland have been confirmed in pot four for the draw for the qualifying rounds of the 2016 European Championships.
Gordon Strachan's men will discover their fate in Nice on Sunday, Feburary 23.
Nine groups will be drawn for the qualifying phase, with France being part of the competition despite being hosts.
Eight groups will contain six teams each, while the ninth group will contain five nations.
Once the draw is made, France will be added to the group of five and will take part in friendly matches against their group rivals. Results against Les Bleus will not count towards qualifying.
The top two nations in each group will automatically qualify for Euro 2016, as well as the best third-placed nation.
The remaining eight countries who occupy third spot in their group will go into the play-off round for the 24-team tournament.
Fixtures commence on September 7-9, 2014, with the final group games being played between October 11 and 13, 2015.
As part of new rules, teams will be able to play qualifiers on any day from Thursday through to Tuesday when there is a scheduled double-header of matches.
Games in 2014 between October 9 and 14, as well as matches in 2015 between September 3 and 8, and October 8 and 13, all fall under the new criteria.
In another twist, being placed in the smaller group of five will also mean nations will avoid games against Spain, Germany, Netherlands, Italy and England.
UEFA competition regulations state those countries must be in a group of six as they contribute the greatest TV revenue.
Finals competition format
At Euro 2016 itself, the 24 participating teams will be split into six groups of four.
The six group winners and six runners-up will all qualifying for the round of 16. They will be joined by the four best third-placed teams from the six groups.
The competition will run from June 10, 2016 until July 10, 2016.
Pots for the qualifying phase of the 2016 European Championships.
Pot one: Spain, Germany, Netherlands, Italy, England, Portugal, Greece, Russia, Bosnia-Herzegovina
Pot two: Ukraine, Croatia, Sweden, Denmark, Switzerland, Belgium, Czech Republic, Hungary, Republic of Ireland
Pot three: Serbia, Turkey, Slovenia, Israel, Norway, Slovakia, Romania, Austria, Poland
Pot four: Montenegro, Armenia, SCOTLAND, Finland, Latvia, Wales, Bulgaria, Estonia, Belarus
Pot five: Iceland, Northern Ireland, Albania, Lithuania, Moldova, FYR Macedonia, Azerbaijan, Georgia, Cyprus
Pot six: Luxembourg, Kazakhstan, Liechtenstein, Faroe Islands, Malta, Andorra, San Marino, Gibraltar