Nigeria v Scotland friendly under investigation over match fixing fears
The international friendly in London is subject to a probe by the National Crime Agency.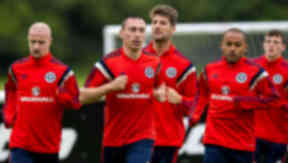 The Scottish FA have been warned over a potential attempt to fix the result of Scotland's friendly with Nigeria.
The match, due to take place in London on Wednesday, has been flagged up for concern following an investigation by the National Crime Agency.
There is no allegation any Scotland players are implicated.
The Scottish FA said in a statement: "We are liaising with the relevant authorities and will prepare for the match as normal."
The NCA declined to comment on any specific investigation when contacted by STV.
They said in a statement: "The NCA will from time to time provide operational detail necessary for public reassurance purposes.
"It does not routinely confirm or deny the existence of specific operations or provide ongoing commentary on operational activity."
Information gathered on the allegations will have been passed by the NCA to FIFA, football's world governing body.
World football governing body FIFA have confirmed they have been notified of the potential threat but would not confirm or deny if they were investigating.
They said: "We are aware of the claims published. Generally speaking, we are not in a position to comment or provide information on any match-manipulation investigations that are ongoing so as not to compromise investigations, nor do we provide any comments as to whether or not any investigations are underway.
"Please note that, in accordance with art. 88 of the FIFA Disciplinary Code and art. 36 par. 2 of the FIFA Code of Ethics (as the case may be), it would only be after a decision has been taken by the FIFA Disciplinary Committee or FIFA Ethics Committee and first notified to the parties concerned that FIFA would be in a position to communicate the contents of that decision publically.
"FIFA continues to work closely with law enforcement agencies as well as the respective public authorities and other sports organisations on a national, regional and global level to tackle the issue of match manipulation.
"We encourage that anyone with information about any suspicious matches should contact relevant authorities such as through FIFA's integrity hotline or e-mail address and confidential reporting system."