Scotland should look to Iceland as inspiration to arrest talent freeze
Graham Ruthven suggests that we should be looking to Iceland for inspiration for our own game.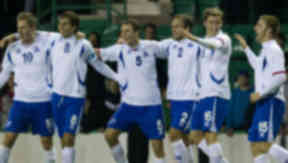 Idealism is rife in football. If idealism were realism in the sport, no team would ever fail. No player would ever be anything less than exceptional. Football would be a procession of predetermined, refined, perfection.
Everybody would be happy. No irate callers to radio phone-ins. No internet forum debates. No orchestrated fan protests. No reason to complain. However, I say rife because as perfect as this may sound, the quest for it can be a harmful burden.
There are those who find it; those who fulfill their wider plan. Vicente del Bosque with Spain, Pep Guardiola with Barcelona and Otto Rehhagel with Greece have all attained this over the past decade. It isn't always something that can be simplified into tangible trophies and silverware. There are many who have fulfilled an idealism without ever enjoying a ticker-tape reception, or open top bus tour. Guus Hiddink with South Korea, Rinus Michels with Holland and most recently, Jurgen Klinsmann with Germany have all found that.
Scottish idealism remains unfulfilled. There have been admirable attempts to change that, but right now, football in the country resides in a state of stagnated mediocrity. However, when you consider that many see it as a rational ambition to replicate the models employed by football super-powers such as Germany and Holland, it's unsurprising Scottish idealism remains detached from realism.
Excluding the odd minor dip in form, Germany and Holland are perennial figures of the European elite. Their success is built on a tradition of youth development established decades ago. Even when the Germans hit their self-proclaimed nadir in 2000, prompting them to comprehensively revive their ailing domestic structure, they still reached the European Championships, an achievement that would form part of any realised Scottish idealism.
Of course, the evaluation of a nation's respective success is relative, but that equally must be considered when targeting the fulfillment of Scottish ambition.
The SFA should be looking to examples set by countries that have recovered from prolonged, or even permanent, spells of barren productivity by redesigning their entire football infrastructure and approach. There are many such cases that could offer a template for Scotland to clone, but arguably none as culturally and practically suited to the situation Scottish football finds itself in now as the precedent set by Iceland.
Unlike Scotland, they cannot boast a domestic league ranked within the top fifteen in Europe, nor have they ever advanced to the finals of a major international tournament. However, the practices being implemented by the country of just over 300,00 people should not be discounted on the basis of the modest size of its sample.
Instead, the SFA and their recently appointed Performance Director, Mark Wotte, should take note of how 17 players have graduated from the Icelandic under 21 team to the senior team in the past three years, compared with just six who have made the jump in Scotland. How over 100 players under the age of 25 play in different leagues around Europe, and how Icelandic football continues to progress, while the Scottish game heads in the opposite, ominous, direction.
Speak to those who have defected to coach or play in the Nordic island, and a common theme emerges; there are lessons to be learned from the Icelandic model.
Since a decision was taken in 2000 by the governing body of football in Iceland, KSI, to dramatically overhaul their football pyramid and infrastructure, the country has established a reputation for producing a disproportionately large number of quality players. When targeting highly rated young striker, Veigar Pall Gunnarsson as manager of Bolton, Sam Allardyce commented, "When you consider the fact that the population of Iceland is similar to the population of Bolton, it becomes astonishing how many good footballers come from Iceland. They're playing all across Europe."
It's a sentiment echoed by many in the game. How can such a small country, a nation with roughly half the population of Glasgow, continue to produce so many good players?
Vidir Sigurdsson, Sports Editor of Iceland's biggest selling daily newspaper, Morgunbladid, thinks the creation of a new football infrastructure has been integral to the country's establishment and progression in youth development.
"The start of the radical change in Icelandic football we've seen over the past ten years was the building of the indoor facilities and stadiums we have now. It was a big effort but we can now see the benefits of it.
"As well as building these big, expensive facilities, the KSI made moves to build small artificial pitches all over the countries, close to schools. This puts focus on the small game and the technical side and means that now we have a generation of young football players who have had excellent facilities and the best coaching since a very young age."
It's this conscious drive from the sport's governing body in Iceland that has seen an astonishing increase in the number of people involved at an organised level of football.
Despite such a small demographic, an incredible 7.4% of the entire population (22,100) are registered players at professional, youth or amateur level. It's not just on the pitch that the sport in Iceland has undergone a drastic transformation, with the number of UEFA qualified coaches now over seven times what is was when the transformation began twelve years ago.
Sigurdsson continues: "The level of coaching in Iceland is at a very high standard now. Every club now has a team of well-educated coaches for each of their teams, at every age group.
"Of course, it would be no good to have great football facilities if there weren't qualified coaches to guide the young players. You need to get the mixture right, and it looks like we're doing that.
"Promising players get their chance very early on here, and we regularly see 16-18 year olds performing in most of the teams in the top two divisions. If they're good enough, they play for the first team. It's not a case of gradually working them in, like it is in other countries. That's just not the mentality we have."
Rather than seeing their small population as a handicap, Sigurdsson sees it as something of an advantage in their case.
"I think our small population maybe helps us. I know that seems like an unusual thing to say, but it's usually the same players who grow up with each other playing from the under 17s all the way up to the national team.
"I think population is used as an excuse for other countries. Recently, I heard a Swedish coach say that Sweden was too small to challenge for honours in the youth competitions. This made us smile in Iceland, when you look at all we've achieved."
Just as adverse financial circumstances have forced some Scottish clubs, such as Dundee United and Falkirk, to revert to their own youth academies, Icelandic youth productivity has remained unaffected by the banking sector collapse that nearly crippled the entire country three years ago.
But while Scottish football idealism may not yet extend to the Icelandic example, there is a growing group of Scots refuting an innate ignorance of the island's standard of football by joining the country's domestic league set-up. One such player is former Aberdeen striker and Scotland internationalist, Robbie Winters, who spent four months with Icelandic premier division side, Grindavik last year.
Now with Alloa, Winters also emphasised how Iceland's revived set-up has facilitated a surge in talent that betrays their modest size.
"Comparing what we have with their facilities really puts us to shame to be honest. Every club or second club has what we have at Toryglen, giving the youngsters the best possible start to their careers.
"I suppose you have to have those sort of indoor facilities in Iceland because of the seasonal weather but it still helps with the number of youngsters playing the game and produces more and better players for the country. I think in Scotland we're only just starting to see how a big facility like Toryglen doesn't just benefit the big teams that train there, but also the youngsters and the kids who just want to play the sport.
"We desperately need to have more facilities like Toryglen all over Scotland, because I've seen first hand that, for whatever reason, they get more kids wanting to play football. That one facility is working well for us, which is progression, but that needs to be rolled out across the country."
Having played for six seasons with Norwegian side, Brann, Winters is in a position to compare the practices being applied by Icelandic coaches in relation to the rest of Scandinavia.
"When I played in Norway, the mentality from back home was that we were slightly better than Norwegian football. But when you compare them (Norway) to Iceland now, and then us to Iceland, there's not that much difference. There are things that Iceland are not just doing better than us, but better than their (Scandinavian) neighbours.
"I still think Scotland still produce better quality players on an individual basis, and our national team is still better than in Iceland, but when you see what they're doing in Iceland, that might not stay the same for long.
"But it shows that if Iceland are building from the bottom up through youth then they will continue to get better and better while we stand still. We can no longer afford to do nothing."
Scotland remains a breeding ground for coaches and managers, partly due to the world-renowned courses conducted by UEFA at the National Sports Centre in Largs.
However, retaining the centre's graduates, which include Jose Mourinho and Andres Vilas-Boas, for Scottish football's benefit has become difficult. Subsequently, Wotte has identified the quality of coaching in Scotland as an area in need of urgent improvement. Winters believes the Dutchman should learn from the way Iceland have overhauled their entire coaching structure.
"I know we've started to try to change things in Scotland, with Mark Wotte coming in, but the question is will the changes go far enough? If we look to Iceland, they've got the best, well qualified coaches at every level of the game, teaching a similar philosophy, taking them right up to the national team. When you do that, you're always likely to produce good players.
"They've got into a cycle of producing good players that can be sold for a significant amount of money that can be reinvested in the system that first produced the player. It's the perfect situation to be in.
"The SFA have got some good ideas on how to make things better, but if Iceland have better ones, then there's no reason why population should stand in their way of being as good as Scotland, and I think they're heading that way. We need to get a move on."
Football idealism teaches us to follow a lead set higher than the one exhibited by yourself. It's what's seen the SFA appoint a German as manager, in Berti Vogts, and a Dutchman as a director, in Wotte, over the past decade. From what Wotte has provisionally outlined during the nine months spent in his new role at Hampden, the far-fetched, romanticism of implementing an identi-kit German or Dutch model is no longer regarded a feasible option.
Encouragingly, Wotte has spoken of the example set by countries such as Uruguay, taking steps to establish a structure of seven regional performance schools, similar to the way in which Iceland operates its thriving youth development programme. Scotland needs to continue to learn lessons from models that mirror the cultural and societal traits that tailor most other nation's approach to youth development, rather chase a fanciful notion that's characterised Scottish youth ambition for too long.
That way, Scotland stands a chance of dispelling football's idealism epidemic.