Glasgow to host Olympic football before 2012 Games begin
Hampden Park will welcome London 2012 particpants to Glasgow over five match days, two of which are before the opening ceremony.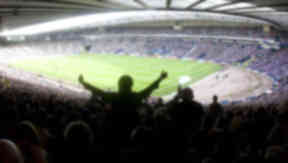 Glasgow will play host to one event of the London 2012 Olympics, two days before the competition formally gets underway. Hampden Park will, as expected, host football matches, with the first fixture taking place on Wednesday, July 25 2012.
Five days worth of matches are scheduled to be held at Hampden, which is one of six venues around the UK which will welcome Olympic football to its football grounds.
A group match in the women's football tournament will be held at Hampden on the Wednesday, followed by the first match of the men's competition on Thursday.
Coventry's Ricoh Arena, Cardiff's Millennium Stadium, Manchester's Old Trafford and Newcastle's St James' Park will all host games, with the men's final being held in London at Wembley Stadium.
It is not yet known which teams will play their matches in Glasgow, with qualifiers for the competition taking place up until March 2012.
16 men's teams and 12 women's teams will compete in the event at the Olympics, with Hampden being used on July 25, 26 and 28, as well as on August 1 and 3.
Football will be the only event to take place outside of the official schedule for the 2012 Olympics, which gets underway on Friday, July 27. The closing ceremony will be held on Sunday, August 12, one day after the men's football final.
For the first time, a Great Britain football side will participate in the Games. However, despite repeated attempts to field a unified team, only English players will be selected for the squad.
Brazil, Uruguay and Great Britain have already qualified for the 16-team men's competition, while Brazil, Great Britain and Colombia are the confirmed qualifiers to date in the 12-team women's tournament.
Hampden will also be a venue when the Commonwealth Games are held in Glasgow in 2014 and will host athletics events, as well as the closing ceremony on August 3, 2014.