Nine players and management pair let go by Dundee
Administrator Bryan Jackson has released nine of Dundee's first team squad, as immediate cuts are made to the club's budget.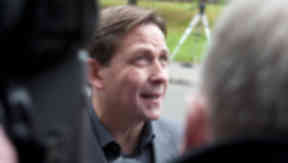 Dundee administrator Bryan Jackson has released nine players from the first team squad on Friday, as cuts are made to the club's budget in an attempt to keep it in business.
Njazi Kuqi, Eric Paton, Colin McMenamin, Scott Fox, Mickael Antoine-Curier, Paul McHale, Dominic Shimmin, Charlie Grant and Brian Kerr have all been released by the club, who now have a first team squad of 16.
All of the players released by the club have been told by PFA Scotland chief Fraser Wishart that FIFA will grant special dispensation for them to move on a free to any other club. Normally, transfer rules forbid any free agent released after the close of the summer transfer window to sign for another team before the next window opens in January.
Barry Smith has been appointed as the team's temporary manager, with goalkeeper Robert Douglas and defender Matt Lockwood assisting the Dundee Hall of Fame inductee. The trio will now take the remaining members of the first team squad to Forthbank on Saturday, with a First Division fixture against Stirling Albion to play.
The management duo of Gordon Chisholm and Billy Dodds confirmed ahead of the administrator's announcement that they had been relieved of their duties, just seven months after leaving their posts at Queen of the South to move to Dens Park.
Speaking on Friday, Jackson said he believed Dundee had enough cash reserves to keep the club going until Christmas. But the administrator stressed that, without any fresh investment or financial support from fans, it would potentially cease trading at that point.
"I believe that with the support of the staff, players, supporters and the wider community, we can resolve the serious financial issues that Dundee Football Club faces now and in the future months," Jackson said at a press conference on Friday. "But the club will need as much support as possible, as soon as possible, if it is to remain in existence."
Despite letting go of nine players, Dundee will undoubtedly remain competitive with the players they have been able to retain. Star men such as Leigh Griffiths and Gary Harkins have been kept, with only one player who featured in their last game - Brian Kerr - on the list of players made redundant.
DUNDEE IN CRISIS