Axed Dundee players feel let down by administration hit club
Nine players shown the door as administrators take control at Dens Park.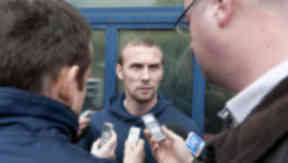 The nine Dundee players told this morning that they had been axed as part of the cash strapped club's administration procedures, have blasted their former employers for keeping them in the dark over the club's debt troubles.
Njazi Kuqi, Eric Paton, Colin McMenamin, Scott Fox, Mickael Antoine-Curier, Paul McHale, Dominic Shimmin, Charlie Grant and Brian Kerr have all been released by the club after administration was confirmed on Thursday afternoon. Management duo Gordon Chisholm and assistant boss Billy Dodds have also been told they are free to go by administrators.
Finnish striker Njazi Kuqi, who only arrived at Dens Park five weeks ago, is amongst the nine axed players and now faces a desperate search for a new club in his homeland.
He said: "My family just moved in two weeks ago. I've packed already so I'm leaving right now.
"I feel sorry for the others because I've only been here five weeks, but this is football. We are not the first team to go into administration, and we probably won't be the last.
"Of course you feel let down. Before I came here they spoke differently. They promised things and then after 5 weeks you're in administration."
PFA Scotland Chief Fraser Wishart has confirmed that due to a special FIFA dispensation, all nine players are immediately free to seek new employers outside the current transfer window.
The exodus will bring back bad memories for 29-year old striker Colin McMenamin, who has been told for the second time in his career that he will be freed as a result of cost-cutting measures. McMenamin was at Gretna when the Borders club went to the wall two years ago but believes the situation at Dens Park is on another level.
"It's a horrible place to be at the moment," said McMenamin. "The administrators came in this morning and explained that the club was in serious trouble. If we don't find a buyer within the next four weeks then the club will be finished.
"It's a shame not everyone has been told the real news earlier. We have definitely been let down."
Administrator Bryan Jackson has now taken full reign of the club's finances and has appointed Barry Smith as temporary boss with Dees legend Rab Douglas and Matt Lockwood assisting him.
The club have retained a total of 16 players, including Scotland U-21 star Leigh Griffiths, who will travel to Forthbank for Saturday's league fixture with Stirling Albion.
Dundee enter administration