Brora Rangers to let fans decide over potential SPFL participation
Ben MacKay discusses the Highland League and whether his side would like to be part of the Scottish Professional Football League.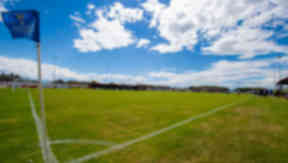 Brora Rangers say they will let their supporters decide any potential participation in the Scottish Professional Football League if they reach this season's play-off game.
The 2014/15 season will see the winners of the Highland League face the Lowland League champions in a play-off.
The winner will then take on the side finishing 10th in Scottish League 2.
Currently Wick Academy and Clachnacuddin FC are the only Highland League sides able to meet the requirements for SPFL admission.
Brora Rangers cruised to the 2013/14 Highland League title, winning the championship with 95 points, 20 clear of nearest challengers Inverurie Loco Works.
Along the way Davie Kirkwood's team scored 123 goals and only conceded 16.
And should they meet the criteria and repeat their league success, the club's main backer Ben MacKay says they would let the fans to decide on their future.
He told STV: "What we have decided as a football club and as a committee is if that eventuality happens then it will be the supporters of Brora Rangers that will decide what league we play in, not the committee or the Scottish league for that matter.
"If you talked to some Elgin supporters then there's some tough travels like down to Annan on a Tuesday night.
"I think the bottom two divisions in Scottish football should be regionalised. We can get 600-700 crowd at a Nairn County or a Wick Academy game.
"I think the crowds are telling people 'let's keep football as sensible as possible' and part time teams travelling possibly 300 miles on a Tuesday or Wednesday night is just crazy in my opinion."
MacKay has voiced his opinion on the matter but admits some on the club's committee would like the chance to join Scotland's senior leagues.
He said: "I would say there's a mixed opinion. If we had this conversation three or four months ago it would definitely have been a no.
"There is two or three people on the board now that have voiced 'we should try and be as big as we can be'.
"We've seen what Ross County and Inverness CT have done but we've also got to be realistic. They are from relatively big towns, we are from probably the third smallest town in the Highland League."
MacKay also discussed their Petrofac Training Cup victory over League 1 side Stenhousemuir, the strength of the Highland League and Brora's aims for the season.