Reluctant Brora Rangers set for SPFL Play-Off despite finance fears
Chairman John Young says there's no way they can opt out of match with Edinburgh City.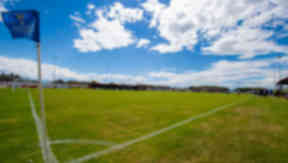 Brora Rangers chairman John Young says his club will take part in the first ever SPFL Pyramid Play-Off match after exploring all options to avoid competing.
Brora retained their Highland League title this weekend after beating Turriff 2-1 to set up a showdown with Lowland League winners Edinburgh City.
The winner of the two-legged clash will then face the 10th place side in League 2, currently Montrose, to gain a spot in the league system.
Many at the club have voiced their concerns over leaving the Highland system and chairman Young admits he would prefer not to feature in the end of season showdown.
Speaking to STV, he said: "We've looked at all options and there's no way we can avoid competing. We meet SPFL criteria for entry level so we can't opt out, we've got to go for it.
"There could be quite severe penalties [if we opt out] so we don't want that.
"My personal thoughts are that I'd rather we stay where we are but as a club we've got to move forward and we will be trying our best to get through into the SPFL.
"Our players are professional and they always want to win every game. If we get through, we get through."
Asked about his concerns about stepping up, Young added: "Our major concern is finance. We're a small village of 1,200 people.
"It's quite hard to sustain ourselves in the Highland League so to travel longer distances, get players off work etc is going to cost the club sustainably more money in our view anyway."
Clubs must meet SPFL membership criteria or have secured necessary approval or period of grace from the SPFL board to compete in Play-Off matches. Failure to comply or secure this would prohibit clubs from playing.
Young confirmed Brora's Dudgeon Park ground is subject to licence at the moment, adding: "The criteria for the SPFL is bronze level for floodlighting, which ours may or may not be.
"We've just upgraded our lights so we need to get them tested but we get a period of grace to get them up to the standard."
Brora can count former Inverness CT players Ross Tokely and Gavin Morrison in their squad alongside ex-Ross County midfielder Stuart Kettlewell.
Despite his own concerns, Young admits manager Davie Kirkwood is desperate to make the step up but not all of the playing squad feel the same.
He said: "I've spoken to the manager and yes he appreciates where we're coming from but he would like to go up and compete at a higher level.
"We have players that have come down from a higher level to come play with us because they didn't want all the travelling etc and even some of our younger players, who I thought would jump at the chance, are not that keen.
"If we get there [SPFL] then we might have to rebuild the team, which is not helpful."
Brora beat Edinburgh City 3-2 in the third round of this year's Scottish Cup. The SPFL Pyramid Play-offs are set to take place on April 25 and May 2.
A SPFL spokesman said: "The creation of the footballing pyramid in Scotland provides, for the first time, the opportunity for ambitious clubs to qualify through sporting success and reach the Scottish Professional Football League.
"We would hope that this opportunity would be embraced by any ambitious club. However, it may be that certain clubs feel more comfortable playing at a lower level and may have a fear of the unknown, which is perhaps understandable."