Referees agree strike action as protest against criticism
Category One referees have said they will not officiate next weekend's fixtures in response to recent criticism and fears over safety.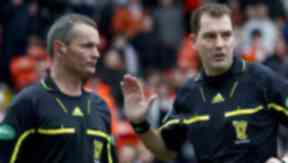 Scottish football could face a weekend without fixtures after top referees voted to take strike action. The Category One refs took the decision as a protest against recent reports and comments criticising performance and standards, and to highlight the fears they have over their safety.
Match officials have been in the spotlight this season over a number of decisions, particularly an incident at Tannadice last month in which referee Dougie McDonald reversed a penalty decision in a match between Dundee United and Celtic. Though the Scottish Football Association said after an investigation that McDonald had made the right call, the referee was criticised after admitting to lying about the circumstances post-match.
Celtic wrote to the SFA complaining about that decision and also said they were concerned with recent decisions against their team. Club chairman John Reid added fuel to the fire last week when he said that McDonald should have been sacked and said action had to be taken after "stories of lies, conspiracies and cover-ups" in the Scottish game.
MP Pete Wishart called last week for referees to declare their club allegiances in order to increase transparency in the decision making process and to remove officials from officiating games involving their favoured teams. Celtic chairman Reid said there was reason to consider Wishart's proposal.
Referees were thought to be unhappy with the continued criticism and with a mood that they feel could increase the risk of violence against them and their families. They were also upset by a newspaper report that 80 per cent of officials had failed an exam on the rules of the game, stating that in fact the test was a routine quiz conducted as part of ongoing training.
The decision to strike has been communicated to the SFA, who provide referees to the Scottish Premier League. Neither body has commented on the decision.
There is a full card of SPL and Scottish Football league fixtures this weekend as well as the Alba Challenge Cup final on Sunday. The absence of 32 Category one officials would wipe out the six SPL matches and if Category Two and Three referees strike in support of their colleagues the entire weekend's football could be thrown into chaos.