Beach balls, dodgy throw-ins and strange offsides: could you make the right call?
See how good your understanding of football's rules are with our five examples of tricky refereeing calls.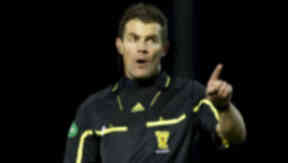 Scottish referees are always under intense scrutiny, none more so than in recent weeks. As criticisms have grown beyond control, our officials have taken drastic measures and threatened to strike.
It's not easy being a referee though, with so many different rules open to interpretation and calls having to made within a split second, without the aid of replays from 100 different angles that TV viewers benefit from.
Scottish assistant referee James Bee got things spot on at the weekend when Kilmarnock's Momo Sissoko cleared the ball into touch, only for the ball to rebound back off the linesman before it fully crossed the line. Rangers' Kenny Miller then kicked the ball out of play as a prelude to taking a throw, only for Bee to then correctly award a throw-in to Kilmarnock.
So when it comes to tricky calls, do you think you could do better? Take a look at five decisions over the years which have provoked lengthy arguments over what the right course of action should have been.
Carlos Vela, Mexico v South Africa, World Cup 2010
On first inspection there seemed little wrong with Carlos Vela's header in the opening game of the 2010 World Cup, as shown in the video above. The Mexican, in behind South African goalkeeper Itumeleng Khune, receives the ball from Guillermo Franco and heads it into the net.
However, the goal was chalked off for offside by the Uzbek officials, with the linesman sharp to spot not was all as it seemed.
What was the right call? Click through for the answer.
Liverpool v Sunderland, English Premier League, October 2009
In October 2009, Liverpool had travelled to the Stadium of Light to face Sunderland, only too aware of the potency of Darren Bent. It would be the England striker who scored the winning goal, but in bizarre circumstances.
Bent's shot took a huge deflection off a beach ball that had been thrown onto the pitch by Liverpool fan Callum Campbell and flew past Pepe Reina. After some deliberation, referee Mike Jones awarded the goal, which turned out to be the winner.
Holland v Italy, Euro 2008
Rafael Van Der Vaart's free kick was punched clear by Buffon in the Italian goal, but in doing so the 'keeper collided with right-back Christian Panucci, leaving the defender lying prone at the side of the pitch.
When Giovanni van Bronkhorst's cross was turned in by Ruud van Nistelrooy, the striker appeared several yards offside. Italian players and fans were outraged at Peter Frojdfeldt's decision to allow the goal, with Panucci clearly being behind the goalline.
Peter Enckelman, Aston Villa v Birmingham, English Premier League, September 2002
This one is still no clearer eight years on and is open to some interpretation. Now St Johnstone keeper Peter Enckelman, playing for Aston Villa at the time, receives a throw in from his team-mate but inexplicably misses the ball, watching on helplessly as the ball trundles into the net.
Johan Cruyff, Ajax v Helmond Sport, Dutch Eredivisie, 1982
Although this penalty had been pioneered by Rik Coppens two decades earlier (http://www.youtube.com/watch?v=hFk0xqO4VkU) it was Cruyff who made it famous. Rather than take the obvious route to goal - placing a shot directly beyond the reach of the goalkeeper - Cruyff and Jesper Olson played a one-two with each other and walked the ball into the unguarded net.