Scottish referees' body explains reasons for strike action
Referees are still pressing ahead with plans to make themselves unavailable to take charge of Scottish league fixtures this weekend.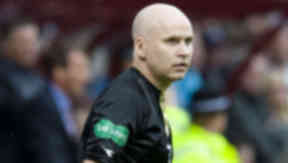 The Scottish Senior Football Referees' Association has defended its members' actions in announcing strike action ahead of this weekend's games, insisting the decision was not taken lightly and was a necessary measure.
Category One officials will not make themselves available for appointment by the Scottish Football Association, meaning six games in the Scottish Premier League, 10 in the Scottish Football League, three Scottish Cup replays and the ALBA Challenge Cup final will not have the services of the country's top referees.
Persistent negative comments from clubs and the media, together with officials' fears over their personal safety away from the pitch, has led to their decision to strike.
In their statement, the refs' body made clear they were mindful of the impact their actions could have but stressed they had to put their interests first. It read: "At yesterday's scheduled SFA monthly meeting of category one officials it was decided unanimously to withdraw availability for appointment this weekend. The SSFRA was asked to communicate this information to the SFA.
"The meeting concluded that the incessant and adverse nature of recent comments on referees has placed intolerable pressures on personal and professional lives, with the view expressed that statements questioning honesty and integrity have been aimed across refereeing in general and have led to an unprecedented level of abuse and genuine concerns for safety and for the ability to carry out normal family and business commitments.
"The group appreciated the full impact this decision will have on fans this weekend and for that reason it was not taken lightly.
"However, it was believed to be necessary in the current climate and will hopefully put an end to the more extreme attacks on referees."
There are 32 Category One officials registered with the Scottish Football Association, with each referee present on Sunday voting to withdraw their services from the scheduled 20 games.
In response, the SFA have raised the possibility of appointing referees from other countries. An agreement with the Welsh, Northern Irish and Republic of Ireland FAs has been in existence for the last five years, which has seen officials tale charge of games outside of their own nation.
The Welsh FA said to STV on Monday they would be willing to help out wherever possible, with their top official – Lee Evans – already holding experience of the Scottish game, having refereed SFL and Scottish Cup games as part of the exchange program.
REFEREES GO ON STRIKE