SPL and Alba Cup games will go ahead with foreign referees
The SFA has confirmed that they have drafted in foreign referees to ensure there is football in Scotland this weekend.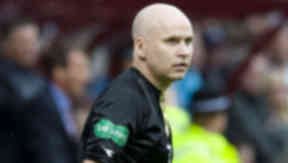 The Scottish Premier League matches and Alba Challenge Cup final will go ahead this weekend. The Scottish Football Association has confirmed that they have drafted in foreign match officials to cover for Scotland's Category One refs, who are on strike.
The nationality of the referees is not yet known but STV has learned  that they will not be from Northern Ireland, Wales, France, England, Sweden, Holland, Finland, Belgium, Denmark, Czech Republic or Iceland.
The SFA confirmed it had reached agreement with foreign refs in a statement issued today.
It read: "The Scottish FA can confirm that agreement has been reached with several European National Associations to ensure matches in the Clydesdale Bank Premier League and the Alba Cup final will be covered this weekend.
"Negotiations are continuing with other national associations to help ensure that some, if not all, matches in the Scottish Football League go ahead as normal.
"Clubs will be informed by 3pm today whether their matches will go ahead or not in light of the Scottish Category One referees electing to persist with their withdrawal of labour."
Lars-Ake Lagrell, the chairman for the Swedish FA, told STV sending referees from his country "would do more damage than good". Similarly the French FA responded: "our referees have been approached but we answered that we couldn't help, despite our good relations".
The Belgian FA also confirmed they had been approached. But, after initially considering the idea, they decided it would not be in their interest to allow their referees to travel to Scotland.
The Northern Irish FA have also said they are unable to help, citing a full programme of domestic fixtures.
Reporting by Grant Russell and Andrew Coyle
REFEREES ON STRIKE