SPL financial health check: Aberdeen
A look at the state of finances at Aberdeen from PricewaterhouseCooper's most recent report and previous findings over five years.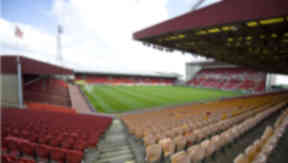 The data presented is taken from PricewaterhouseCooper's financial reports into the Scottish Premier League, extracting figures from their latest findings and previous releases.
For a general overview on the state of the SPL clubs' finances, you should read: SPL clubs record profit but report warns of uncertain financial future.
Summary
Aberdeen's finances were boosted by a strong run in the Europa League in 2007/08 and a relatively successful season domestically in 2008/09. The decision to introduce a more performance based wage structure meant that the club saw a significant drop in their spending in this area in 2009/10, although the lack of success on the pitch significantly hurt attendances, and therefore turnover, in the same period.
Wage to turnover has remained relatively close to the recommended 60%, but the loss of the Setanta TV deal in 2009 and declining crowds have meant that the overall debt increased during the 2009/10 season.
 
Attendances
2009/10: 10,461
2008/09: 12,929
As comparison:
2004/05: 13,577
2001/02: 14,035
Wages
 
2009/10: £4,601,000
2008/09: £5,756,000
2007/08: £5,931,000
2006/07: £5,500,000 (circa)
2005/06: £4,500,000 (circa)
Turnover
2009/10: £7,053,000
2008/09: £8,557,000
2007/08: £12,869,000
2006/07: £7,000,000 (circa)
2005/06: £6,500,000 (circa)
 
Wage-to-turnover
 
2009/10: 65%
2008/09: 67%
2007/08: 46%
Profit/loss before tax
 
2009/10: £84,000 loss
2008/09: £1,642,000 loss
2007/08: £1,107,000
2006/07: £700,000 loss (circa)
2005/06: £1,500,000 loss (circa)
 
Net debt
 
2009/10: £12,866,000
2008/09: £10,977,000
2007/08: £8,998,000
2006/07: £11,500,000 (circa)
2005/06: £11,000,000 (circa)
 
Director comment, Stewart Milne, director
 
"At the time of publishing this report, the club is renegotiating the bank facilities; a process that is ongoing. The Board of Directors and I remain confident that with continued support from the major shareholders, the required bank facilities will be put in place early in the New Year, thus enabling us to drive forward on the stadium and training facility projects."