Jason Brown out to stake his claim for Aberdeen number one spot
The goalkeeper has played second fiddle to David Gonzalez so far this term but will be given his chance to shine against Dundee.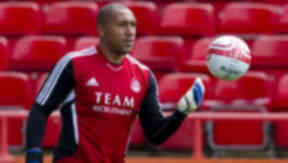 Jason Brown is looking forward to making his competitive debut for Aberdeen and is eager to show he is worthy of taking over from David Gonzalez as number one.
The former Blackburn Rovers keeper has watched on from the bench so far this season as the Colombian has played in all five of the Dons matches, conceding six goals.
Brown though will be given his chance in the Scottish Communities League Cup match with Dundee on Tuesday night and the Wales international is looking to take his chance to impress.
"I'm very excited," said Brown. "It's been a long time coming. Obviously I have only been here for a month and missed all of pre-season. So I have been playing catch up, playing some games behind closed doors and some friendlies.
"I can't wait for the game. I am very excited and looking to put in a good performance.
"The gaffer has seen the way I operate in terms of the games I have played and in terms of in training. I am grateful but it is maybe one [chance] that I deserve as well."
Aberdeen made it all the way to the semi-finals of both domestic cup competitions last season, avoiding the sort of upset the club had become accustomed to in recent years at the hands of lower league opposition.
First Division side Dundee are one such club to have put the Dons out and Brown is wary of the threat they pose but says he is looking forward to dealing with the expectation of coming out on top.
"I enjoy the pressure games," he said. "I enjoy the intensity and those are the games you want to be playing in. You don't want to be playing in the games where it doesn't mean anything.
"It's just another game for me but obviously there is a little bit more because Dundee are a rival. They are a league below us and they are going to want to come in and prove something.
"That puts a little bit more pressure and expectation on us to go out and win. It's another game and hopefully it's another one we can win."