STUC protests meet with opposition at Celtic Park
The STUC led demonstrators were asked to leave the Parkhead grounds ahead of the match against Hapoel Tel-Aviv.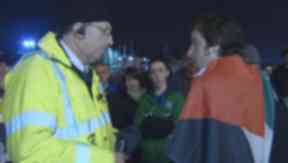 There were arguments outside Celtic Park last night as pro-Palestinian supporters attempted a "peaceful protest" during the Europa League match against Israeli side Hapoel Tel-Aviv.
Security officials attempted to move on the 60 or so protesters who were distributing placards branded with the Palestine flag within the Parkhead grounds.
Officials said no permission had been given for the protest.
The demonstrations were vocally opposed by some fans who saw the trade union's call to action as a political hijacking of the club.
The actions followed on from calls from the Scottish Trade Union Congress for Celtic fans to show their support for the cause during the match.
STUC Deputy General Secretary Dave Moxham said: "We hope that Celtic fans will join with us in a demonstration of support for a just and lasting peace in Israel/Palestine based on a safe and secure Palestinian homeland living side by side with Israel."
He continued: "I am today writing to Celtic FC and Hapoel Tel Aviv FC outlining the reasons and purpose of this call and making clear that we attach no blame either to Hapoel Tel Aviv players, nor their fans, for the outrageous actions of their government."
Their plan was to distribute thousands which would be seen by the "millions around the world… including those living in Israel and Palestine."
However the club itself had voiced concerns over the plans, saying a crowded football match was, "not the place for a public demonstration", and urged supporters not to compromise safety at Celtic Park.
They added: "We have further concerns that any behaviour within Celtic Park, in breach of UEFA Regulations and Respect campaign will have serious implications and consequences for Celtic as a club."