Celtic to forge partnership with Mexican club
Santos Laguna have entered talks with the SPL side over a possible link-up between the two teams.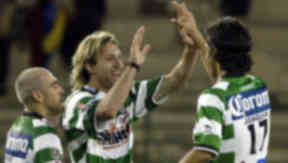 Celtic are in talks with Mexican Primera Division side Santos Laguna about a formal partnership between the clubs. The proposed link would see Celtic establish a presence in Central America and could involve players moving between the sides.
Celtic chief executive Peter Lawwell confirmed to STV Sport that discussions had begun between the two parties.  
"We haven't reach agreement yet but discussions are ongoing with Santos Laguna," Lawwell said.
The chief executive said that commercial and marketing initiatives were being proposed and that the partnership could also include movement of players between the sides.
"On the back of signing Efrain Juarez ,there is huge interest in Mexico in Glasgow Celtic and this could be another step in us promoting the Celtic name," Lawwell added.
Santos have confirmed their interest in the link-up on their official website, with club president Alejandro Irarragorri pointing out similarities between the clubs. Aside from the fact that both clubs play in green and white, Irragorri said there were "shared philosophies, foundations and objectives.
The Mexican club are currently top of their group in the Mexican Apertura Championship. They last won the league in 2008, having lifted the title on three occasions since their formation in 1982.
Santos were the first club to hand a professional outfit to Italy midfielder Mauro Camoranesi, who was born in Argentina and was taken to Mexico from Mar Del Plata based side Aldosivi in 1996, en route to his eventual switch to Italy in 2000. Mexican internationals Cuauhtemoc Blanco, Osvaldo Sanchez and Jared Borgetti have also played for The Warriors.