Celtic to take Mexican prospect on loan
As part of their agreement with Santos Laguna, striker Gustavo Adrian Ruelas is expected to move to Glasgow in a bid to impress the Hoops.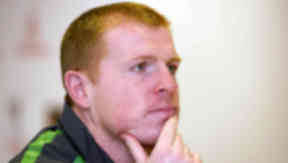 Celtic' partnership with Mexican club Santos Laguna has borne fruit early, with the news striker Gustavo Adrian Ruelas will move to Glasgow. The 19-year-old will link up with the SPL side on a short-term deal, with Neil Lennon having an option to buy the player at the end of the season.
Ruelas, who holds dual Mexican and American nationality and was born in California, is a current squad member with the United States' Under-20 side and was their star player at the recent Milk Cup, with a goal in the final against Northern Ireland his third of the tournament.
In a statement, Santos announced a deal had been struck between the two clubs. It read: "As part of a co-operation agreement between Santos Laguna and Celtic, it has been confirmed a temporary arrangement with an option to buy for our player, Gustavo Adrian Ruelas Aguilar, has been reached with the Scottish team."
Ruelas joined Santos in 2006, having spent a year with MLS club Chivas USA. After being involved in training camps at Under-18 level for Mexico, the USA team called up the bilingual player to their team and he impressed in the prestigious Milk Cup tournament.
Standing at 6ft 1in, Ruelas is an athletic player who showed his ability in Northern Ireland, finishing with aplomb from the edge of the area when he scored past Rangers youth keeper Wayne Drummond to seal a 3-0 scoreline.
The player himself has also spoken about the move, admitting it had taken him by surprise. He said:  "I'm very happy, I am a little rushed with the news as overnight I have been told I am going to another club."
As revealed by STV Sport earlier in September, officials from Santos Laguna were in Glasgow recently to formalise an agreement between their club and Celtic. It was confirmed then that such moves could happen between the two sides and the transfer of Ruelas when his stock is on the rise could prove to be a shrewd move by the Hoops.
The Mexican club, who spoke of their "shared philosophies, foundations and objectives" with Celtic during their trip and who also play in green and white, were the first club to give a professional deal to Italy World Cup winning midfielder Mauro Camoranesi, who was born in Argentina.
Celtic have already made a foray into the Mexican transfer market this season, signing midfielder Efrain Juarez from UNAM Pumas after his performances with the national side at the 2010 World Cup.
CELTIC LINK UP WITH MEXICAN CLUB