Kayal sidelined for two months with hernia injury
Celtic midfielder Beram Kayal will need an operation on a recurring hernia problem and will have surgery next Friday.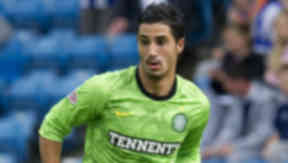 Beram Kayal will miss the next two months after it was decided he will require an operation on a hernia injury. The Israeli midfielder was in Manchester on Wednesday for further tests and had been hopeful of returning to action without the need to go under the knife.
Kayal, who last featured for Neil Lennon's team in the 2-1 win at Kilmarnock on September 19, will have his operation in London next Friday. It is the second time this year he will have undergone surgery on the injury, having missed several months with the complaint when he was with Maccabi Haifa.
His absence means he will miss the forthcoming Old Firm derby with Rangers on October 24 but he is likely to be fit for the second clash with Celtic's city rivals on January 2. Kayal will also miss his country's forthcoming Euro 2012 qualifying matches with Croatia and Greece.
Kayal even travelled to Israel on Tuesday to consult with national team doctor Mark Rossanovsky, ahead of his meeting with a specialist in England. But, speaking after learning of his prognosis, the 22-year-old says he is focusing on making his comeback.
"There is no escaping that I need surgery," Kayal said of his injury to Walla Sports. "I hope to be fit as soon as possible and I am looking forward to my return."
Celtic are yet to confirm the absence of their player, after initially issuing a denial earlier this week when it was claimed Kayal would definitely require an operation, causing him to miss the next three months.
The player himself said prior to his appointment down south that he may have been able to take an injection for the injury, ruling him out for just one month. But his manager made clear he would prefer Kayal to have the problem cleared up, ensuring he was fit and injury-free for the remainder of the season.
"The manager told  me he needed me in the second half of the season and that he prefers if I rest, then rejoin the group in January," Kayal said on Wednesday.