Ruelas hopes aggressive approach can win him Celtic deal
Celtic hopeful Adrian Ruelas says he has found the going tough in training but is giving his all to impress manager Neil Lennon.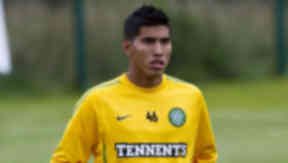 Despite learning the hard way on the training ground, taking a few kicks along the way with Celtic's first team squad, Adrian Ruelas says he is enjoying his experience with Neil Lennon's side and is determined to win a permanent deal to stay in Glasgow.
Ruelas, on loan from Mexican side Santos Laguna as part of a recently established partnership between the two clubs, has been training at Lennoxtown since mid-September and made an appearance as a substitute in Celtic's recent trip to take on Bohemians in a friendly during the international break.
Effectively on trial with the SPL club, with Lennon having until January to decide whether to make the 19-year-old's switch permanent, Ruelas says is growing accustomed to the style of play in the Scottish top flight from how his team-mates train, and says he has had to change his own approach in order to keep up.
"I've been here a month already," Ruelas told the website Yanks Abroad. "Day by day I get used to it more and more. I am still excited because this is a dream that I am living right now. Every day I enjoy it.
"I haven't practised with the reserves. I have been with the first team almost every day. I played in two games with the reserves and a friendly in Dublin with the first team.
"Every day I go out, and since I am the youngest guy in the squad, I have to be aggressive and go out hard. If I get hit or something, I can't just go down and ask for assistance. I have to get back up.
"It is really hard. It's a lot different. I am kind of used to that style of play now. But every day is different and you hope you go out and do your best and impress the coach. I look forward to it each day."
Born in California to Mexican parents, Ruelas, a highly-rated under-20 international with the USA national setup, has never made a top team appearance during his short career. But, having been the star man for the country of his birth in the recent Milk Cup tournament in Northern Ireland, he is regarded an exciting prospect back in America.
His football experience until coming to Celtic had been playing at youth level back in Mexico with Santos Laguna and training with their first team, something Ruelas says couldn't prepare him for what he has experienced on these shores.
"In North America, it's a lot different than in Europe," he said. "I always watched [European football] on television, but now that I am playing it and practising it, I realise the differences.
"There is a lot more ball movement and it is faster here. It is really intense. Games or practice, whatever they do, they do it at the maximum rate.
"The mentality is focused and it's set to be intense. It's fast with and without the ball."
Ruelas has also been encouraged by the coaching methods of Celtic boss Lennon, the man who will make the final decision on whether or not the striker stays in Scotland beyond January.
"I am actually impressed," Ruelas said of his coach. "He's a really good coach and really, really young. He has a lot of systems and he changes them depending on how the other team plays. He may play with two up front or just one.
"He has a lot of different styles which is good. The players are capable of learning different positions."
RUELAS' CELTIC AMBITIONS