SFA back McDonald after Celtic penalty investigation
Referee Dougie McDonald is backed for rescinding a penalty award to Celtic but is found to have submitted inadequate evidence to the SFA post-match.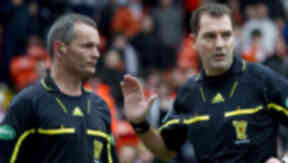 The Scottish Football Association has ended its investigation into the role of the match officials in the recent fixture between Dundee United and Celtic, ruling that referee Dougie McDonald made the correct decision to rescind a penalty award given to the Glasgow club in the match.
A meeting of the SFA's referee committee on Friday, which McDonald was present at, also confirmed that the paperwork submitted by the officials after the match was "not completed to the expected standard". Grade One referee McDonald, however, has not been demoted, having accepted his match report was not up to scratch.
Linesman Steven Craven resigned following the game, in which he and McDonald elected to overturn a penalty given to the Glasgow club. The incident infuriated the managers of both teams, with Celtic subsequently writing to the governing body for an explanation on how the decision was reached.
In a statement on Friday afternoon, the SFA outlined their stance on the matter. It read: "At its scheduled meeting today at Hampden Park, the Scottish FA's Referee Committee considered the report from the chief executive, Stewart Regan, into the circumstances surrounding the awarding of a penalty kick to Celtic in the recent Clydesdale Bank Premier League match against Dundee United, and the subsequent overturning of that award.
"The committee reached a unanimous view that the overturning of the original decision was correct. The match referee, Dougie McDonald, was present at today's meeting and admitted that after having blown for an infringement he immediately realised that he may have made an error.
"As is appropriate in these circumstances, Dougie, unprompted, decided to approach the assistant referee, Steven Craven, who had assumed the required position for the taking of the penalty. Dougie then asked Steven if he had seen the Dundee United goalkeeper, Dusan Pernis, touch the ball first and Steven confirmed that, in his opinion, the goalkeeper had.
"Dougie then communicated to the players that he had made a mistake and restarted the game with a drop-ball, as per the Laws of the Game.
"In addition, the investigation identified that the post-match administrative process was not completed to the expected standard. The committee agreed with this point and Dougie has accepted his responsibility in this regard. It should also be noted that, while Dougie ultimately arrived at the correct decision during the match, he was marked-down for the error in awarding a penalty in the first instance in the observer's report."
TANNADICE INCIDENT IN THE SPOTLIGHT