SFA's McDonald findings contradict observer's report
Jim McBurney's post-match report highlights referee Dougie McDonald did not tell the correct version of events immediately after Celtic's win over Dundee United.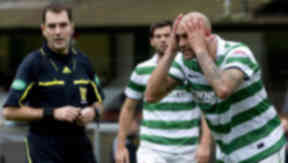 Dougie McDonald was not called over by linesman Steven Craven to discuss the award of a penalty to Celtic in their recent fixture with Dundee United. Contrary to original reports, the findings of the Scottish Football Association's referee committee highlight that the initial comments from the match observer to the governing body were factually inaccurate.
In Jim McBurney's report to the SFA, it was logged that McDonald had "ran over" to Craven, with the observer being told that the linesman had shouted "Dougie, Dougie" to the referee to attract his attention.
That initial report held Craven up as the scapegoat for the decision, after McDonald had pointed to the spot for an apparent foul on Gary Hooper by United keeper Dusan Pernis.
However, the SFA's statement on Friday made clear McDonald already had his doubts over the award as soon as he had pointed to the spot and instead went to Craven on his own accord to confirm those concerns.
"As is appropriate in these circumstances, Dougie, unprompted, decided to approach the assistant referee, Steven Craven, who had assumed the required position for the taking of the penalty," read the SFA's statement, confirming that the original story told by McDonald to McBurney post-match was untrue.
Hugh Dallas, the SFA's head of referee development, had echoed the earlier claims of McDonald in the aftermath of the incident, insisting McDonald was alerted to the mistake by his assistant.
SFA chief executive Stewart Regan, who instigated the inquiry, revealed McDonald had been given a "warning" by the referees committee over his failure to properly articulate Craven's role in his report and in discussions with the observer.
However, the Grade One official has gone unpunished despite the inaccuracies in comments to the match observer, with the referee committee unanimously deciding the eventual decision to rescind the penalty award was correct.
Craven resigned amidst the furore surrounding what was dubbed as his decision to rule out the penalty, having allegedly received verbal abuse, and having also been marked down in the observer's report for his performance.
REFEREE ROW RUMBLES ON