Video: Stewart Regan's referee press conference in full
Watch the SFA chief executive's response to questions on the Dougie McDonald penalty incident in the recent Dundee United v Celtic fixture.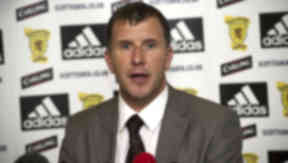 SFA chief executive Stewart Regan took questions on Friday evening, after it was announced referee Dougie McDonald had been warned for failing to make clear it was his decision to rescind a penalty given to Celtic in their recent fixture with Dundee United.
The official had claimed to the referee observer in the wake of the controversial incident that his linesman, Steven Craven, had summoned him over to question his decision to give a spot kick for what McDonald thought was a foul by Dusan Pernis on Gary Hooper.
However, it has since transpired McDonald sought clarification himself, unprompted, before eventually giving a drop ball instead of a penalty. In the wake of the incident, Craven resigned, for what Regan insists were a number of reasons, including his disappointment at being made the scapegoat for the penalty not being given.
In his address to the media, Regan confirmed he would contact Celtic over the Tannadice incident and announced that McDonald had accepted a warning from the SFA for his conduct.
The chief executive also said he would look into the possibility of launching a respect campaign for referees and said he wanted future discussions after football matches to be based upon the performance of players and teams, rather than "dissecting" referee's decisions
REFEREE ROW RUMBLES ON