Referees' row: Peat says end 'the conspiracy theories'
SFA president calls for the "culture of inference, innuendo and conspiracy theories" to end immediately.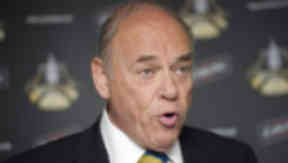 The president of the Scottish Football Association, George Peat, has spoken out over what he sees an increasing and unhelpful tendancy to criticise referees. Peat said that the "behaviour of some people" was over the top and said there had to be an immediate end to their comments.
Scotland's Category One officials have stated they will not take charge of forthcoming senior fixtures, in protest at what they see as excessive criticism over their performances. Peat said the SFA had not yet met with referees but was hopeful of having the chance to discuss matters with them on Monday afternoon.
Complaints over the standard of referees and specific decisions have made the headlines in recent weeks, with Celtic at the centre of the most high profile incidents. Their manager Neil Lennon and chairman John Reid have both aired their grievances publicly and the club has twice written to the governing body seeking an explanation over the decisions which have gone agaisnt them.
Speaking on Monday afternoon, Peat refused to name Celtic as the cause of his frustrations. But the SFA president said all of those responsible for the prolonged criticism of referees must reconsider their conduct.
"Unfortunately the behaviour of some people in recent weeks has tarnished the image of Scottish football," said Peat. "It has demeaned the game.
"The culture of inference, innuendo and conspiracy theories must stop."
Peat also made reference to recent comments by Reid, who called for referee Dougie McDonald to resign after he was found to have lied to Celtic and manager Lennon in the game with Dundee United in mid-October.
Without directly naming Reid, Peat answered: "We haven't even discussed that but the comments certainly weren't helpful.
"I don't want to personalise this, I'm just talking about comments which have been made recently which have not helped.
"Referees have always had criticism. Most clubs fortunately take that as part of the game and they leave them alone.
"If we consider that some of the comments have brought the game into disrepute, then we would take action, but we haven't considered that yet."
REFEREES GO ON STRIKE