Celtic trialist returns to Mexico
Santos Laguna's young striker Adrian Ruelas will not be offered a permanent deal to stay in Scotland.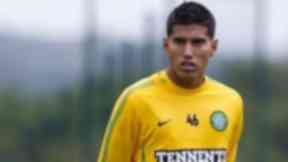 Celtic have decided against a permanent deal for young trialist Adrian Ruelas. The US Under-20 international forward has been in Scotland on loan from Santos Laguna since September but has failed to convince Neil Lennon he is worthy of an extended stay in Glasgow.
The Parkhead side had an option to purchase the 19-year-old striker, who featured in a number of bounce games for the club's developmental squad. But Ruelas, who came to Scotland as part of a partnership between the two clubs, will now return to play for Santos Laguna's Under-20's team.
"Ruelas has returned to Santos Laguna after his first experience of Europe with Celtic in Scotland," the Mexican side confirmed in a press release. "The Scottish club's coaching staff decided not to exercise the option agreed in September 2010."
Ruelas, who holds dual Mexican and American nationality, spoke fondly of his time in Scotland in October but admitted to homesickness, as he struggled to adjust to a new way of life.
"I have not talked much with the coaching staff," Ruelas told Medio Tiempo at the time "But Neil Lennon speaks to me and asks me how I feel or if I need something. All of the coaching staff are very kind to me and are helping with my development.
"It's different here, especially because training is very intense but, little by little, I am adapting, I like it and the people here treat me very well.
"I always try to do my best and give the best I can. I keep dreaming of playing with the first team and I am trying hard. I want to play in Europe.
"But I miss tortillas and Mexican food because here there is no tortillas, salsa and beans. I also miss my family and friends because, although I contact them via the Internet, it is not the same as being with them."