Neil Lennon explains Celtic's recruitment policy
The Parkhead club go through an extensive process to ensure they are signing talent within a limited budget.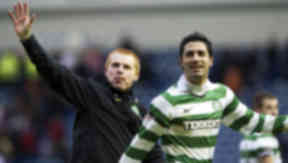 Neil Lennon has explained the recruitment process at Celtic and says every signing goes through several stages to ensure the club is getting value for money in the transfer market.
Celtic have signed three in the summer transfer window to date, acquiring Adam Matthews, Kelvin Wilson and Victor Wanyama.
The club's scouting network, headed up by John Park, has already won praise for the discoveries of Beram Kayal and Emilio Izaguirre from Israel and Honduras respectively last summer, with both impressing in their debut seasons and attracting interest from England and abroad.
With a tight budget to work to, uncovering players in seldom-tapped markets is Celtic's policy and Lennon has outlined how the likes of Izaguirre came to sign for the club.
"We go and try and find the diamonds that maybe get overlooked," Lennon explained in an interview with newstalk.ie. "We certainly found a couple last year in the likes of Gary Hooper, Beram Kayal, Emilio Izaguirre and Kris Commons. It's difficult to replicate that but we'll keep pursuing those markets.
"With a modern club like ourselves, we have a great recruitment office where [I can say] the type of player I am looking for. So I will go in and say, for example with Izaguirre: 'I am looking for a left back'.
"Then our recruitment team come up with three or four options. That may be from players they've seen themselves, or have been recommended by an agent.
"Then we go and do some homework and research on the player. We look at DVDs and then go and watch them in person.
"Then the buck stops with me. The backroom staff and myself have to say yes or no. That's the process that goes on 12 months of the year, 24 hours of the day.
"We've options in three or four positions but obviously you have to work within a certain budget as well. And you have to think: 'will these players make the team or the squad better?' If they do, you try and go get him."
Lennon missed out on the signings of David James, Sol Campbell and Jimmy Bullard last summer, with the established trio electing to remain in England instead of moving to the SPL.
Those knockbacks paved the way for the club to look elsewhere and the Celtic boss says a different approach is essential.
"I think we are more of an attractive proposition than we were this time last year," he said. "But in terms of the markets we find it difficult to compete with the English Premier League teams because we don't get the same revenue.
"These clubs get £30 million a year just for being in the Premier League from TV money, whereas ourselves we only get £1 to 2 million. So we are always playing catch-up and it is difficult to compete with the wages.
"[To compete] we would put ourselves in a huge amount of debt and, from a business point of view, we don't want to go there."