Celtic drawn against FC Sion in Europa League play-off round
Swiss opposition stand between Neil Lennon's side and a place in the group stages.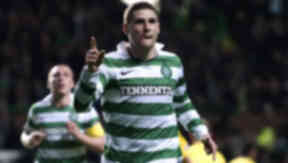 Swiss side FC Sion will take on Celtic for a place in the group stages of the 2011/12 Europa League.
Neil Lennon's side were scheduled to travel to mainland Europe for the first leg on August 18 but, following a fixture clash with city rivals Rangers, have reversed the tie and will now play the home leg first. FC Sion will now host the second leg in Switzerland on August 25.
That fixture reversal though goes against the preferences of the manager, who said on Friday: "My preference would be away first."
Celtic confirmed to STV on Friday afternoon that neither they nor Rangers wished to reverse the fixture. The decision then fell to UEFA, who ruled in favour of Rangers based on the Ibrox club being drawn first.
Former Hearts defender Jose Goncalves is currently on the books at FC Sion, while ex-Celtic trialist Pascal Feindouno is also in their squad.
Laurent Roussey's team were Swiss Cup winners last season, finishing fourth in the 10 team Swiss Super League. This season they are third with six points from three games, winning two and losing one.
A FIFA transfer embargo has left six of the club's summer signings - Mario Mutsch, Gabri, Billy Ketkeophomphone, Stefan Glarner, ex-Hearts defender Jose Goncalves and former Celtic trialist Pascal Feindouno - unable to play thus far this season.
Sion though are challenging the ruling and won a civil court order on Friday to force the Swiss Football League to register the six. The league though are consulting with FIFA before ruling whether they can face Basel this weekend.