SPL financial health check: Celtic
A look at the state of finances at Celtic from PricewaterhouseCooper's most recent report and previous findings over five years.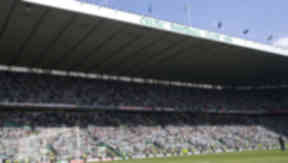 The data presented is taken from PricewaterhouseCooper's financial reports into the Scottish Premier League, extracting available figures from their latest findings and previous releases.
For a general overview on the state of the SPL clubs' finances, you should read: SPL clubs record profit but report warns of uncertain financial future.
Summary
Celtic's relatively stable financial position is illustrated by the fact their wage to turnover ratio is well within the recommended parameters, and the fact that they have recorded significant profits in three of the last five years. However, their financial position is reliant on participation in elite European competition.
The large profits generated in 2006/07, 2007/08 and 2008/09 were due to reaching the group stages (or further) of the Champions League, while the losses incurred in 2009/10 are reflective of the failure to progress from the less lucrative Europa League. Net debt increased in 2009/10 due to the heavy investment in the playing staff and considerably lower than average crowds during the tenure of Tony Mowbray.
 
Attendances
2009/10: 45,583
2008/09: 57,671
As comparison:
2004/05: 57,943
2001/02: 58,512
Wages
 
2009/10: £36,438,000
2008/09: £38,751,000
2007/08: £39,951,000
2006/07: £37,000,000 (circa)
2005/06: £32,000,000 (circa)
Turnover
2009/10: £61,715,000
2008/09: £72,587,000
2007/08: £72,953,000
2006/07: £75,000,000 (circa)
2005/06: £58,000,000 (circa)
 
Wage-to-turnover
 
2009/10: 59%
2008/09: 53%
2007/08: 53%
Profit/loss before tax
 
2009/10: £2,131,000 loss
2008/09: £2,003,000
2007/08: £4,435,000
2006/07: £17,200,000
2005/06: £4,200,000 loss
 
Net debt
 
2009/10: £14,770,000
2008/09: £4,858,000
2007/08: £6,706,000
2006/07: £10,000,000 (circa)
2005/06: £14,100,000
 
Director comment, Peter Lawwell, Chief Executive
"Revenues generated by progress in European competition remain of major significance and provide greater flexibility when considering player investment... Although better placed in financial terms than many clubs, careful and patient use of our financial resources must characterise our efforts to strengthen the first team squad."