Celtic reinstated in Europa League as UEFA rule against Sion
Neil Lennon's team are back in European competition but the Swiss club look set to appeal the ruling.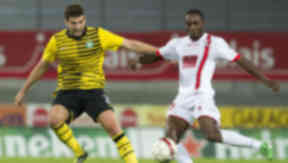 Celtic have been reinstated in the 2011/12 Europa League after FC Sion were made to forfeit their two play-off round ties.
The Swiss side have been adjudged by UEFA to have included five ineligible players in their squad for the two fixtures, with Pascal Feindouno, Gabri, Mario Mutsch, Jose Goncalves and Billy Ketkeophomphone all taking to the field against Neil Lennon's side.
FC Sion recorded a 0-0 draw in Glasgow and then ran out 3-1 winners at home last Thursday. But under UEFA's Europa League regulations, Celtic have been awarded both games 3-0 by means of forfeit.
As a result, the Scottish Premier League side will now inherit Sion's place in Group I of the Europa League and will face Atletico Madrid, Udinese and Rennes.
A statement from UEFA confirmed: "The UEFA Control and Disciplinary Body today dealt with the two protests lodged by Celtic FC against the validity of their UEFA Europa League play-off ties played against FC Sion on 18 and 25 August.
"The Scottish club questioned the eligibility of a number of the Sion players who participated in these matches, with the Swiss side winning 3-1 on aggregate.
"The Control and Disciplinary Body accepted both protests and decided to award both ties to Celtic by forfeit (3-0). As a consequence, Celtic are qualified for the UEFA Europa League group stage.
"An appeal can be lodged against these decisions within three days of receipt of the written grounds for the decisions."
A Celtic spokesman said of the decision: "We have been advised by UEFA that the two protests relating to the matches against FC Sion have been upheld, as a result of which each match has been forfeited in favour of Celtic.
 
"We are pleased by this decision, the approach which has been taken by UEFA and the fact that UEFA rules and regulations have been upheld. We are also grateful for the support of the SFA in this matter."
As the fixtures currently stand, Celtic will play their first Europa League group stage match in Spain against Atletico Madrid on September 15.
Udinese will then visit Glasgow on September 29, before Neil Lennon's side go to France to take on Rennes on October 20.
Celtic will then play a home double header against Rennes and Atletico Madrid on November 3 and 30 respectively, before rounding off the campaign with a visit to face Udinese on December 15.
Daniel Majstorovic, who was sent off in the second leg of the tie with Sion, will still have to serve an automatic one-match suspension in the competition and will miss the trip to Madrid.
Prior to Friday's decision, Sion owner Christian Constantin had already vowed to take further action against any negative decision, with the Swiss press raising the possibility of a delay to the start of the group stages as a result.
Sion have the right to appeal to UEFA and are given three days following the notification of any decision to lodge their protest in writing. The grounds for their appeal must be submitted within six days. A fee of 1,000 Euro is payable.
IN DETAIL