Celtic reinstatement gives Scotland minor European coefficient boost
Two 3-0 wins by means of forfeit against FC Sion for Celtic has seen a small increase in Scotland's UEFA ranking.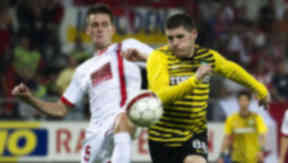 Celtic's reinstatement to the Europa League will result in an immediate, albeit minor boost to Scotland's UEFA coefficient.
The Glasgow club have been awarded two 3-0 wins by means of forfeit, after their Swiss opponents were thrown out of the competition for fielding five ineligible players across their two play-off ties.
Sion have already indicated their intent to appeal UEFA's decision but, as it stands, Celtic will take their place in Group I of the competition, pairing them with Atletico Madrid, Rennes and Udinese.
In the immediate term, Scotland's coefficient for 2012 is boosted from an average of 1.125 to 1.5. Celtic have now contributed 2.0 coefficient points, the same amount as Hearts, but the combined total is divided by the amount of clubs who participated in European competition that season.
The rise in coefficient however does not significantly improve Scotland's current standing in 17th spot in the 2012 country rankings, which are used for qualification in 2013/14.
As it stands, the nation remains on course to have just one Champions League spot that season, with the 2012/13 SPL champions needing to go through three qualifying rounds.
The Scottish Cup winners that season and the SPL runners-up will go into the Europa League at the third qualifying round stage, with the SPL's third-placed side facing three qualifying rounds.
Scotland's combined total over the last five seasons now stands at 19.891, 08.58 points behind Cyprus and 2.684 behind Austria, with the latter nation currently occupying the spot which guarantees two participants in the Champions League.
Austria though have three teams left in European competition to rack up points this season, with Cyprus still having two sides remaining, meaning Celtic will have to pick up a succession of wins to give Scotland any chance of improving its standing for 2013/14.
Israel, who sit one place behind Scotland in the country ranking, have 19.250 points and three teams left in European competition. Czech Republic, who occupy 19th, have 19.100 and one team in the Champions League.
Celtic will be awarded two coefficient points for a win in the Europa League going forward, and one for a draw. Those amounts are divided by four before being added to Scotland's overall figure, ultimately meaning a win is worth 0.5 and a draw worth 0.25.
Immediate future
The performances of Scottish clubs in Europe this season, and Celtic's form in the coming matches, has no bearing whatsoever on the qualification spots for the 2012/13 campaign.
It has already been determined that Scotland will have two clubs in the Champions League next season, with both the SPL champions and runners-up entering at the third qualifying round stage, on the Champions and Non-Champions Route respectively.
The winners of the 2011/12 Scottish Cup will enter the Europa League at the play-off round stage. The team finishing third in the SPL enter in the third qualifying round, with the side in fourth coming in a stage earlier in the second qualifying round.
IN DETAIL