Islam Feruz leaves Celtic for Chelsea
The Somalia-born forward, who has represented Scotland at youth level, is heading for the English Premier League.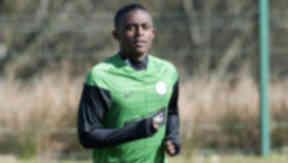 Islam Feruz has agreed terms with Chelsea, ending his association with Celtic.
The Somalian-born forward, who turned 16 at the weekend, was linked with a move to the London club earlier this summer, with Neil Lennon admitting he hadn't seen the player for some time.
That deal has now gone through and the Glasgow club have lost one of the brightest prospects for years. Celtic will receive training compensation for having trained the player between the ages of 12 and 16.
"Islam is an ambitious kid," his agent, Rui Alves, told STV. "A lot of clubs were interested in him. We had proposals from clubs in Spain, Italy and France.
"Some clubs even approached us and said 'we know we won't be able to get this kid because he is such a talent'.
"We appreciate everything Celtic and Tommy Burns did for him. I have a lot of respect for Celtic. Neil Lennon is a friend of mine who I deeply admire. But it was in Islam's heart to move to Chelsea.
"The possibility of training with [John] Terry, [Didier] Drogba and [Frank] Lampard will be fantastic for him. The structure at youth level at Chelsea is great. It would be a gift from God to see him playing in the English Premier League"
Feruz is unable to sign professional terms with Chelsea until he turns 17 but joins the club on a scholarship agreement for the next year.
Having arrived from Somalia in 2001, former Celtic coach Tommy Burns intervened when Feruz and his family were threatened with being deported back to the country.
Feruz has represented Scotland at youth level, having benefited from a change to FIFA eligibility rules, and will continue to turn out for his adopted country.
Celtic boss Lennon had expressed his disappointment at possibly losing the player several weeks ago. "It's going to be very difficult for us to hold onto him," he conceded.
"That's the situation at the minute. I would rather discuss it at another time when everything is clear.
"At the minute, I haven't seen Islam since the start of the season. We've done everything we can to keep the player. I think we've done more than enough to make him feel at home here.
"He does have other people in the background who are advising him. My take on it is they are advising him wrongly. But we seem to be powerless in that situation."
IN DETAIL