SPL financial health check: Dundee United
A look at the state of finances at Dundee United from PricewaterhouseCooper's most recent report and previous findings over five years.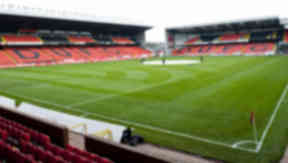 The data presented is taken from PricewaterhouseCooper's financial reports into the Scottish Premier League, extracting available figures from their latest findings and previous releases.
For a general overview on the state of the SPL clubs' finances, you should read: SPL clubs record profit but report warns of uncertain financial future.
Summary
Dundee United have an enviable wage-to-turnover ratio, and have been making inroads into their debt year-on-year. 2009/10's successful season on the pitch culminated with their Scottish Cup victory and third placed finish in the SPL. These acheivements, coupled with the increased commercial operations and compensation received when Craig Levein left to become Scotland manager, accounted for the modest profit they made in 2009/10 in spite of the collapse of the Setanta TV deal. However, such factors are difficult to replicate year on year, and the importance of selling players is again emphasised by the fact that the only other recent season that United have made a profit was in 2006/07, following the sale of Barry Robson for a seven figure sum.
Attendances
2009/10: 7,664
2008/09: 8,654
2004/05: 8,211
2001/02: 8,007
Wages
 
2009/10: £3,963,000
2008/09: £3,604,000
2007/08: £3,338,000
2006/07: £2,700,000 (circa)
2005/06: £2,900,000 (circa)
Turnover
2009/10: £6,052,000
2008/09: £5,792,000
2007/08: £5,845,000
2006/07: £4,000,000 (circa)
2005/06: £4,200,000 (circa)
 
Wage-to-turnover
 
2009/10: 65%
2008/09: 62%
2007/08: 57%
Profit/loss before tax
 
2009/10: £67,000 profit
2008/09: £137,000 loss
2007/08: £834,000 profit
2006/07: £900,000 loss (circa)
2005/06: £1,100,000 loss (circa)
 
Net debt
 
2009/10: £5,726,000
2008/09: £6,172,000
2007/08: £5,855,000
2006/07: £7,300,000 (circa)
2005/06: £7,800,000 (circa)
 
Director comment, Stephen Thompson, director
"The forecasts identify a need for additional funding of £0.3m beyond that currently available from the bank. The controlling shareholder has confirmed that additional financial support to this level will be made available on the basis that the existing level of bank facilities (including the term load) continue through the coming 12 months."