Falkirk chairman calls for relegation perspective
Bairns chief Martin Ritchie believes his club have a lot to be thankful for despite their drop from Scottish football's top flight.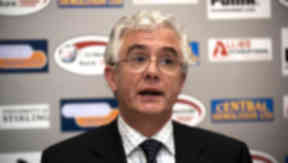 Martin Ritchie knows relegation isn't the end of the world for Falkirk considering the state they were in when he joined the club in 1998. 12 years ago, the Bairns were on the verge of going out of existence before buyers stepped in to rescue them from oblivion.
Promotion to the top flight followed seven years later at the second attempt, having been denied promotion after winning the First Division in 2002/03 because their Brockville home wasn't up to SPL standard.
The club remained in the top division until Saturday when a draw with Kilmarnock consigned them to the drop but Ritchie has told disgruntled fans to appreciate what has been achieved by years of stability.
"It's very easy to think this is a disaster for Falkirk Football Club," Ritchie said. "I came into the club 12 years ago and we were in provisional liquidation, still at Broclkville, playing in the First Division and our office staff were working in a Portakabin.
"Now we have a new 8,000-seat stadium, a fantastic pitch and a great training set-up at Stirling University, a very successful academy that people speak highly of, in the community we are working with all the schools around Falkirk, doing welfare-to-work programmes.
"This is a setback, a major setback, but it's just a setback. The message I would like to give about Falkirk Football Club is we have moved on a long way in 12 years."
FALKIRK FACE THE DROP
Few clubs drop to the First Division and bounce straight back, although Inverness Caledonian Thistle bucked that trend by winning this season's championship in their first year back in the SFL.
The Bairns retain hope of following in their footsteps but in the short-term, Ritchie says the club will have to prioritise and work hard to account for an estimated £750,000 drop in revenue.
"I suppose life doesn't go up all the time, some things are always going to get in the way and trip you up," Ritchie continued. "What we have to do is move forward and preserve an awful lot of things we have put in place because a lot of people have put in a lot of hard work to make that happen.
"Going down, we obviously have to save money but I hope we can preserve the youth programme and can still play our part in the community and Scottish football."
With the realism setting in at the club that they are no longer in the SPL, the club's official website wasted no time in detailing the fixture plans for their new season back in the Scottish Football League.
As they confirmed, Falkirk's first competitive fixture of the 2010/11 season will come in the Challenge Cup on July 24. That will be followed by participation in the first round of the Co-operative Insurance Cup on July 31, then their first game in the league on August 7.