Michael McGovern hopes to draw on experience ahead of Celtic showdown
The former Hoops goalkeeper wants his team to draw on their experience of beating Rangers and Dundee United, and is not looking to his own personal triumph over his former team.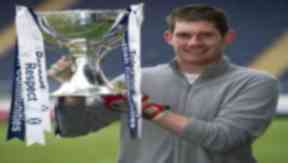 Falkirk goalkeeper Michael McGovern knows just what it is like to shock Celtic in the cup, but insists that he wants to concentrate on Falkirk's meeting with the Hoops rather than look over old glories.
McGovern, 27, was in goals for Ross County when the First Division side defeated Celtic in the Scottish Cup semi-final, before suffering defeat in the final.
Now the goalkeeper will return to face Neil Lennon's side in the knowledge that they have already eliminated Rangers and Dundee United from the competition.
However, McGovern is keen to play down suggestions of a third giant-killing: "I am quite quiet, I don't go on about things like that.
"But it was a very special moment for myself. I will always remember that but it is a different set of circumstances now.
"I am at a different club and also the Celtic team is completely different, probably a much better team and they are on a fantastic run, so we are under no illusions as to how hard the game is going to be but we are not going for a day out, we are really looking forward to it and we will give it our best shot.
The Falkirk stopper also believes that all the expectation will be on Celtic and that will help his side.
He continued: "Celtic are expected to win on Sunday. There is no pressure on us at all.
"They are expected to win leagues and cups every year, we're not and that will suit us. We can go out there and enjoy the game, try to put on a performance and try to win the game.
"I have been very lucky over the last couple of years to have some good cup runs with teams I have been at and hopefully that can continue."
The Northern Ireland international, who was an unused substitute for Celtic in the 2007 Scottish Cup final, hopes that the experience of defeating Rangers and Dundee United can help his young side to gain confidence ahead of the showdown at Hampden.
McGovern said: "The boys went through against Rangers and Dundee United and I'm sure they will take that into the game on Sunday.
"It is something that can definitely give us confidence although this is going to be a harder game than either of those two.
"But it is a good opportunity to play at the national stadium. When you are younger you dream of playing at Hampden against big team like Celtic so what a fantastic opportunity for us and one we will definitely relish. So I am looking forward to Sunday."